Choppy price action continues in most of the major indexes. Therefore, I am taking a very cautious approach with my trading until I get more confirmation that this choppy period is over. That would come from a breakout higher in the S&P 500, NYSE Composite, Nasdaq 100, and Russell 2000. Also, more quality trade setups will need to form and follow-through after they breakout. Recently we have had some patterns, but the price has struggled to follow through (higher) after breaking out.
This means I am severely restricting new purchases. I may take the odd trade on a very nice setup, especially if the stock seems to do its own thing (not highly correlated to the stock indexes). There are some trades on the watchlist, and I may take some small positions in them, if they set up fully and breakout, but I am not going to be deploying a lot of capital right now.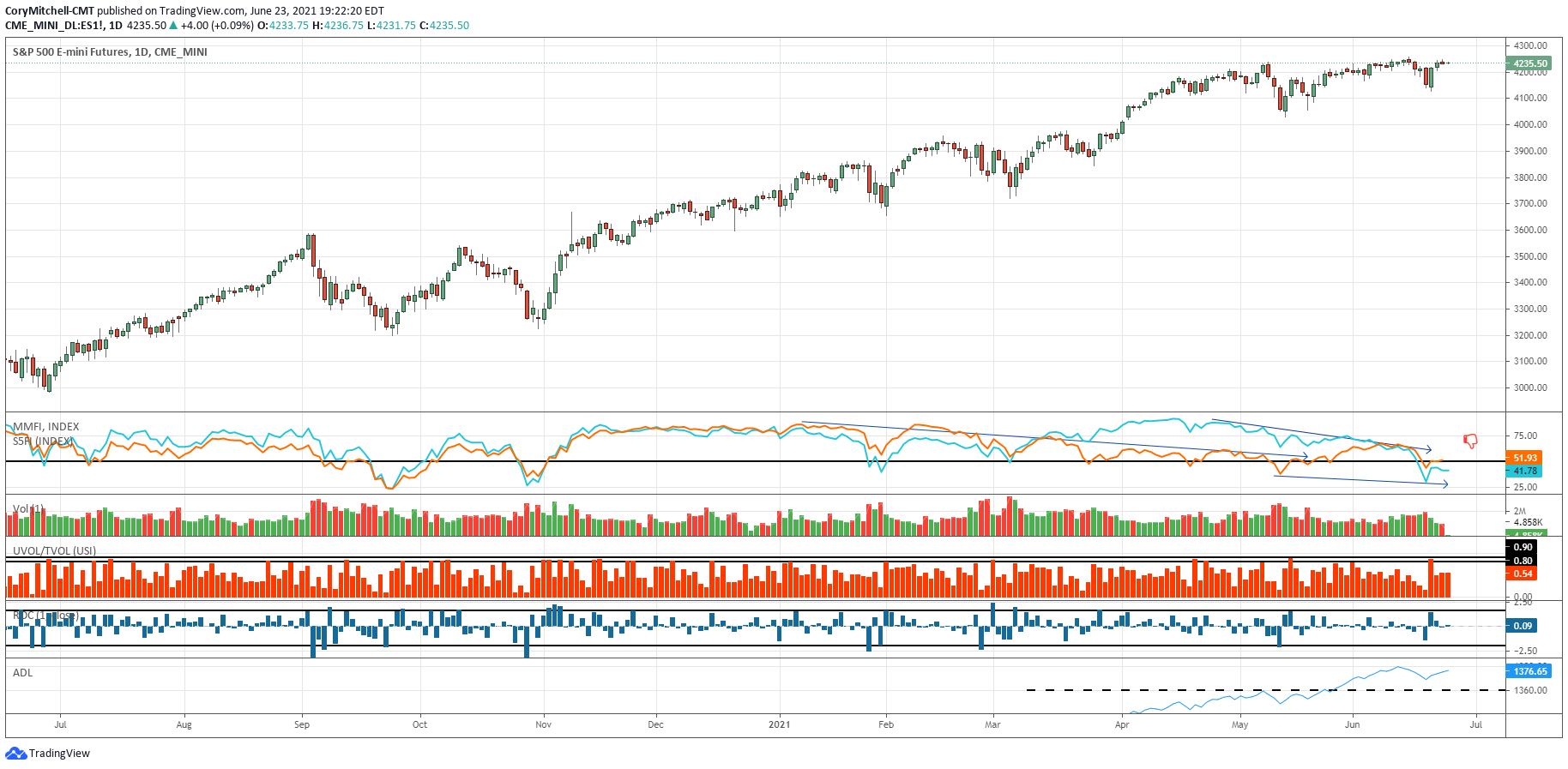 My Market Health indicators are all in mediocre shape. These are discussed below. From a price action perspective, we are still in a long-term uptrend, but chopping sideways in most of the indexes over the last couple of months. Nothing to indicate a downtrend yet, BUT, buying in choppy conditions can erode capital quickly as well, which is why I am cautious. A break higher in the indexes would lure in more of my capital.
45% of S&P 500 stocks are above their 50-day moving average (top indicator, blue line). And only 51% of all US stocks are above their 50-day moving average (orange line on top indicator). This means about half of stocks are in short-term uptrends. Making it a little tougher to trade on the long side (much easier when that percentage is above 60%).

The blue bars show the daily rate of change in % (second from bottom). Large single-day drops are often (not always) associated with overall declines in the index. Right now this indicator is in ok shape. A 2% SINGLE-DAY DROP WOULD BE A BIG WARNING SIGN IN THESE CONDITIONS.

The NYSE Advance-Decline Line (bottom indicator) is near highs while the S&P is near its highs. Currently, the indicator is confirming the price action, but not giving any positive or negative signals.
The Complete Method Stock Swing Trading Course covers my swing trading approach in-depth. It also lays out exactly when to trade four different strategies (that suit different market conditions), and how and when to scale back when conditions aren't ideal. Trading when conditions aren't right will typically lead to giving back all the gains accumulated during the good/easy times.
US Stock Swing Trading Watchlist
97 stocks met the StockRover scan criteria, down from 100 last week.
Contraction Patterns and Close to Setup
From last week's list:
ANF – like this one the most. Could enter near old consolidation breakout area.
CROX – could enter around the old consolidation.
Added this week:
PLL – really messy. If it forms a high consolidation, may be worth a look, but looks a bit crazy at the moment.
GPRE – Already consolidated. Variation pattern.
Contractions That Still Need to Move Up and Consolidate
From last week:
BW – This pattern is really big and loose. Want it to tighten up before I consider it.
SBNY
TBBK
I didn't add any trend channel trades this week (didn't look for them) because the indexes are near highs, and if we breakout, I prefer being stocks that have been strong, have consolidations near highs, and will thus have likely strong breakouts if the indexes move up.
Canadian Swing Trading Watchlist
44 stocks on the StockRover scan list, down from 51 last week.
Contraction Patterns Close to Setup
From last week:
MGRO.CN
PHA.V
HWX.TO (variation pattern – see course)
OPS.TO – big pattern. Want a small consolidation to make it make worthwhile.

Added this week:
DME.V – could finish forming a consolidation soon.
FOM.V
OCO.V – big of an odd pattern. I will be waiting on this one for likely another week or more.
STLC.TO – A little far from the highs, but if it consolidates here it still could be a nice setup.
Contractions That Still Need to Move Up and Consolidate
HWX.TO – variation pattern
RKS.CN
FSY.TO

Added this week:
DBG.V
By Cory Mitchell, CMT
Want to learn how to scan for and trade these patterns? Know which ones to trade and which ones to leave alone? Learn this strategy and others in the Complete Method Stock Swing Trading Course.
Disclaimer: Nothing in this article is personal investment advice, or advice to buy or sell anything. Trading is risky and can result in substantial losses, even more than deposited if using leverage.