The double consolidation pattern strategy occurs as the price is starting to move up off a pullback low. It should only be traded when the stock is in a longer-term uptrend.
For example, I wouldn't trade this pattern if the stock just dropped 50% and is an overall downtrend. I much prefer this strategy when the price has had a minor pullback of say 10%, and is starting to turn back up, within a longer-term uptrend.
This is a pattern I noticed and started trading several years ago. I have not seen any other patterns like it mentioned in books, videos, etc. It is covered in more detail in my Complete Method Stock Swing Trading Course.
I only use this strategy on the daily chart in stocks. It may work on other markets or time frames but I haven't checked.
Double Consolidation Continuation Pattern
Here's how the double consolidation pattern forms.
Overall uptrend on daily chart.


Pulls back


Forms one consolidation near the low (price must move up slightly off the low and then form the consolidation).


Price breaks above the consolidation and immediately forms another consolidation (2nd consolidation).


Price breaks above the high of the second consolidation to trigger a long trade.


Stop loss goes below the low of the second consolidation.


See How to Set Profit Targets When Swing Trading Stocks for guidance on when to take profit. I don't take a trade unless the average movements of the stock can offer at least a 3:1 reward:risk ratio on the trade. A trailing stop loss is another option.
Each consolidation should be at least 3 days long, but they may be longer. If you draw rectangles around each consolidation they should be touching or slightly overlapping. We want them close together (but not side-by-side). Too far apart and the strategy loses its power.
A buy stop limit order goes just above the second consolidation high point (after day three). A stop loss goes below the consolidation low.
What volume is doing during the consolidation doesn't matter too much. When the price breaks out of the second consolidation, it is ideally on larger volume. We won't know that till after we have taken the trade.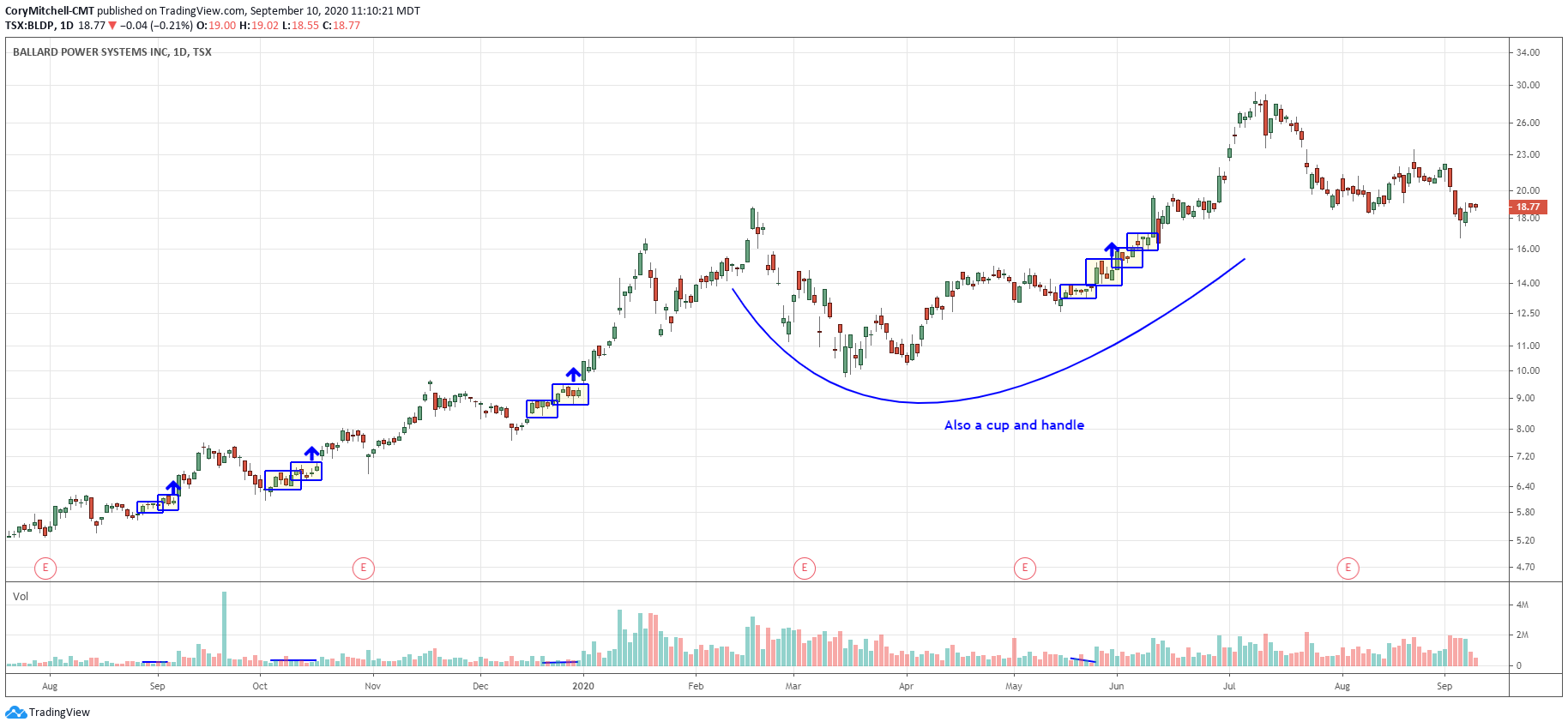 Here is another example in Tesla as the stock was coming out of a small pullback. Tiny trade risk of about 2.7% (difference between entry and stop loss price).
When to Avoid the Double Consolidation Stock Strategy
Avoid this strategy when:
The consolidations are side-by-side, or second consolidation is below first. We want that upward progress.


The consolidationa are ragged or very large (SL will be too large). The pattern is there or it isn't. if you have to "get creative" or squint a certain way to see it, it aint there.


This strategy can be good for getting in near pullback lows if the conditions develop; don't use it if the stock is nose-diving.
How to Scan for the Double Consolidation Stocks
I don't actively scan for this pattern. Although you could by looking for uptrending stocks that have recently pulled back. For example, stocks above their 100-day moving average but below the 15-day moving average, for example.
Rather, I scan for cup and handle and triangle patterns, as these are my bread-and-butter strategies. While flipping through the charts on the scan list, if I see a double consolidation I may opt to trade it. Similarly, If I'm looking for trend channel trades, the double consolidation may provide an entry for those trade as well.

If you like this strategy, you could certainly use this scanning method, or another, to zero in on these patterns.
This video discusses how I scan for cup and handle and other patterns, which include double consolidations.
I don't see this pattern too often, but that may only be because I am not particularly looking for it.
By Cory Mitchell, CMT
To learn more about finding explosive trades, as well as everything else you need to know about swing trading, check out my Complete Method Stock Swing Trading Course.