The stock market health has improved. That means I have the green light to buy stocks that are forming quality trade setups.
I'm primarily focused on contraction patterns right now. This is what I am scanning for and what the watchlist below is based on.
You can read the full market health report here, which discusses why I am willing to buy.
US Swing Trading Stock Watchlist
These are stocks I'm watching because they have the potential to trigger trades based on the contraction/triangle pattern strategy.
This strategy and others are covered more in-depth in the Complete Method Stock Swing Trading Course, including how to scan and find trades.
222 Stocks met the scan criteria. Manually narrowed to those below.
Added This Week
KBR – Contraction shorter than a month, but still needs to consolidate anyway. More of a sideways range than contraction.
ORLY – Angled up (pattern since mid-Feb). Small mover.
PNNT -Not a big runner following breakouts (2021 onward).
THC – Squeezed tight. Not typically a big runner.
CBT – Squeezed. Angled down.
SBLK
From Last Week
GDEN
AQUA – half cup & handle pattern
CNXC – has to move back up. Earnings soon.
Canadian Swing Trading Stock Watchlist
101 stocks on the list. Narrowed to those below.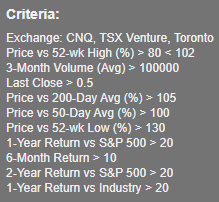 Added This Week
IPO.TO – More of range. Strong movement.
ESI.TO – Same as above (I'm looking at the small pattern in March, not the big pattern going back to last summer). Not a great pattern, but the strong momentum is intriguing.
ELO.V – Just under a month so far, but nice tight pattern.
AMC.V – angled up.
CS.TO – Getting close to 1 month of contracting. Contraction is just above a 9-month range it recently broke out of.
From Last Week
ALCU.CN
(FL.V and HME.V from the prior list broke out this past week)
To learn more about scanning to find explosive trades, as well as everything else you need to know about swing trading, check out my Complete Method Stock Swing Trading Course.
By Cory Mitchell, CMT
Disclaimer: Nothing in this article is personal investment advice, or advice to buy or sell anything. Trading is risky and can result in substantial losses, even more than deposited if using leverage.