The stock market has been holding up well the last month, and I have been nibbling at some long trades, but mostly just watching to see if the stocks I'm watching can continue moving to the upside.
So far so good. Trades are working, although none have hit a full profit target yet. That said, the market conditions are good enough to continue nibbling at some swing trades…which means scanning and watching for opportunities.
See the latest Stock Market Health Update for a look at the current market conditions and why I'm willing to deploy a portion of my capital right now.
I only trade stocks that are on my swing trading stock watchlist, as shown below.
The stock lists below are based on Contraction Patterns and Cup and Handle Patterns.
For the full swing trading method from scanning, to stock selection, to placing trades, see the Complete Method Stock Swing Trading Course.
US Swing Trading Stock Watchlist
Here are the scan criteria used this week. 115 stocks met the criteria.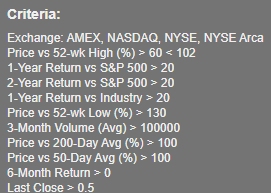 I also ran a simple scan for stocks above their 50, 100, 200-day moving averages. That also produced a few names.
In case you can't read my writing:
HRB, MCK, UTHR, RGP, EXLS, PWR, VRTX, EOLS, CLR, ENPH, SEDG, BLTE, KDNY
Additional notes:
EXLS is a pretty big pattern. Not a fan of that. Prefer if it tightens up more.
Canadian Swing Trading Stock Watchlist
Using the criteria shown above, I didn't see any Canadian stocks I liked the look of. But when I scanned for stocks above their 50, 100, 200-day averages, there was one decent looking one.
BLX.TO – needs to consolidate
Couple of Notes
How breakouts perform lets me know how easy it is to make money, and how much capital I should be deploying. If breakouts are working, I want to be involved and putting capital to work. If most breakouts are failing quickly, or not producing gains, then I know to stay mostly in cash and/or await better conditions.
Right now, breakouts are somewhat working. There are breakouts occurring from patterns I'm watching, but none have reached the targets yet. For example, I own ACHC. It is doing well, but needs to keep doing well in order to encourage me to put more capital to work.
The Passive Stock Investing Using ETFs eBook is now available! Follow the guide to compound money in the background—in good conditions and bad—with little effort, even while swing trading and day trading. For $15, it is a worthwhile investment.
By Cory Mitchell, CMT
Disclaimer: Nothing in this article is personal investment advice, or advice to buy or sell anything. Trading is risky and can result in substantial losses, even more than deposited if using leverage.