This is my watchlist IN CASE, the S&P 500 has a follow-through day this week. Current conditions are NOT good for swing trading. I will only start nibbling at positions (with about 20% of my capital) if we get the follow-through day. If conditions continue to improve after that, I will allocate more capital to swing trades.
Here is the full Stock Market Health Update for the Week of Jan. 31.
And below is the stock watchlist for US and Canadian stocks.
Overall, I am not seeing a lot that I like. Even many of the stocks below have a ways to go before forming really nice patterns. But, at this point, we know conditions are not great, so that is to be expected. Ultimately, I don't want to be loaded up with positions right now. If I find one or two decent trades over the next couple weeks, that is fine. And that assumes we get a follow-through day/conditions improve next week. If we don't, there will be no trades.
Once we start moving up, there will be plenty of opportunities.
US Swing Trading Stock Watchlist
This a not a buy list. It is stocks I am watching because they have the potential to form a contraction/triangle pattern. I watch for these stocks to form valid entries based on the strategy. This strategy and others are covered more in-depth in the Complete Method Stock Swing Trading Course.
Here is the criteria used to scan for these stocks. You will notice a few of the criteria have been relaxed/reduced since the last watchlist because most stocks have fallen. Therefore, few stocks would have met the old criteria.
Also noted REGN is in an interesting spot. Not from my scan list.
Canadian Swing Trading Stock Watchlist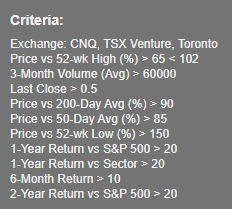 Want to learn how to scan for and trade these patterns? Know which ones to trade and which ones to leave alone? Learn this strategy and others in the Complete Method Stock Swing Trading Course.
By Cory Mitchell, CMT
Disclaimer: Nothing in this article is personal investment advice, or advice to buy or sell anything. Trading is risky and can result in substantial losses, even more than deposited if using leverage. I may take positions in some of these stocks as they trigger, but I can't trade them all. Which stocks I trade will depend on conditions at the time, risk/reward, stock strength, and other factors.