It was a strong day for the stock market on Aug. 26 so most of the stocks I am interested in have broken out of their recent consolidations and are well on their way to their profit targets. The stocks that haven't broken out aren't as strong as the stocks that did. That means the list this week is small.
Stocks Setting Up For Swing Trades
Check out the cup and handle article for the strategy for trading these stocks. If the stock forms a handle without a cup, or it has already broken out of a cup and handle and then forms another handle, I call that a continuation pattern. A continuation pattern is the same as a handle and should have similar features.
VICR
ENPH
FVRR

From ChartMill Sqeeze Play Ideas
INFY
TPX
TTD
GDS
GDOT

There are no Canadian stocks on my watchlist for the next few days. The ones I was interested in have broken out and I am currently in them, or they failed to form proper patterns.
Recent Trade Examples
Here are some recent trade examples from the recent watchlists. I picked these because they each have something interesting to discuss/learning points.
CGEN had a contracting pattern and then a consolidation. Volume declined on the consolidations and this stock was on recent watchlists.
There were two potential entries, with the lower one obviously providing a better reward:risk based on the profit target. 3.5 to 4.4: 1 reward: risk, depending on entry. Looking for about 26% to 33% profit (depending on entry).
Today was a weak day on fairly high volume, which isn't a good sign. Yet the trade remains ongoing at this time.
NTES consolidated after the last watchlist was published. It then broke out. 3:1 with a 10% target. This is a fairly straightforward trade. While it is a very strong stock, it can be choppy. Hence the small target. I prefer to be in and out and not hold through the pullbacks. To each their own.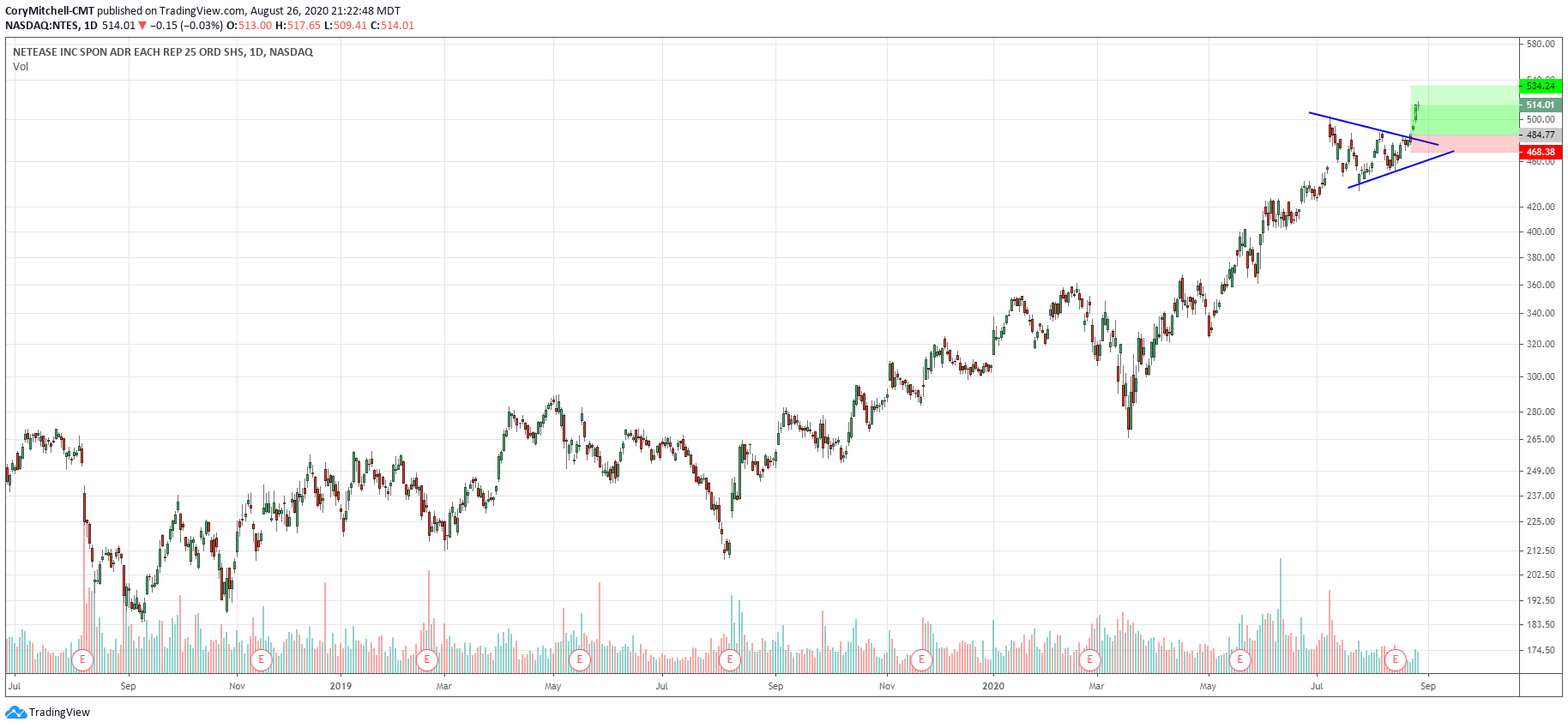 TMO may have looked like a valid trade to some, but it wasn't. The price didn't contract and volume didn't drop off on the consolidation. The consolidation itself wasn't very well defined either. It may still work out because the market and the stock are strong, but this isn't a trade I would be taking.
Not taking trades that don't match the strategy is as important as taking the trades that do!
Some of these swing trade ideas could also be turned into day trades if you are looking to keep your risk exposure limited. See the "Breakout and Run" Day Trading Strategy for Stocks.
Cory Mitchell, CMT
Disclaimer: Nothing in this article is personal investment advice, or advice to buy or sell anything. Trading is risky and can result in substantial losses, even more than deposited if using leverage.