I am continuing to focus on trading Contraction patterns for my swing trading…but a lot of nice patterns recently broke out and then dropped. When the patterns aren't working it shows buyers are getting weaker as the upward momentum can't continue. On top of this, while the indexes and market health indicators look in decent shape, there is a warning flag (discussed below) that is also keeping me from plowing in capital.

I am only willing to put about 60% of my capital into swing trades right now. The rest will stay in cash for now.

There are lots of potential trades though; some really nice-looking setups. So with the warning flags, I will probably end up taking a handful of trades over the next couple of weeks, but with position sizes cut in half (allows me to take trades, yet retain more cash).
The Complete Method Stock Swing Trading Course covers my swing trading approach in-depth. It also lays out exactly when to trade four different strategies (that suit different market conditions), and when to take a step back.
The market health indicators, as shown on the S&P 500 daily chart above, are in decent shape, but not firing on all cylinders.
Starting with the top indicator. MMFI is the % of US stocks above their 50-day moving average. It has been declining since mid-Feb, while the S&P 500 has made new highs. That's not a good thing. Also, the absolute value of 57 means only about half of stocks are in short-term uptrends. That tends to make swing trading on the long side more challenging. This has even been dropping since April 5 (62%), even though the S&P 500 has moved up since then.
All the other indicators signal the market is in decent shape
The scan lists below reveal that there are lots of good-looking setups out there. So that is a positive thing for the market. I will very likely be taking some trades this week, but I won't be deploying ALL my capital because of those little warning flags out there.
US Swing Trading Watchlist
THESE LISTS ARE NOT MEANT FOR A SINGLE DAY. I WATCH THE STOCKS ON THE LIST ALL WEEK. MAYBE INITIALLY ONLY 1 OR 2 IS READY FOR AN ORDER, OR MAYBE 0. BUT IN A FEW DAYS, MAYBE ANOTHER ONE IS READY. THE LIST SERVES ME ALL WEEK.

STOCKS FROM THE PRIOR WEEK, THAT STILL COULD SET UP, ARE TRANSFERED OVER TO THE NEW LIST.
213 stocks on the scan list, cut down to 94 based on the new 2-year parameter I added in (discussed below)
I added in a new parameter this week: 2-year return versus S&P 500 > 20
I added this because I noticed that a lot of stocks that sold off hard during covid are now being included in the scan (since it has been a year since the sell-off). These stocks have been strong, but they are just now getting back to near pre-covid levels, and many are in long-term downtrends. I typically eliminate these anyway, so adding in this parameter makes sure the stock is strong over the last two years, and not simply recovering from a huge selloff.
Contracting and Closer to Setup
ATKR
KIRK
CRIS
BKE
OLN – Just under one-month minimum requirement. I notice this one before the scanner adjustment. It is just under the 2-year requirement, but very close.
ERII

CAI
BGFV
APPS – Had broken out, now back below entry.
FLL – Had broken out, then dropped below stop loss. I would want to see it drop a bit and then come up to near the highs and consolidate again.
TGB
SEAS
Still Needs to Move Up and Consolidate

Canadian Swing Trading Watchlist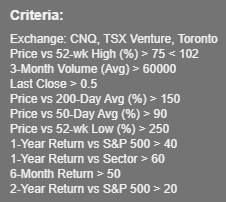 106 stocks on the scan list, which was cut down to 66 with the new 2-year parameter mentioned above.
Contracting and Closer to Setup

OCO.V
JEV.V
MGRO.CN
DLCG.V
PHA.V
GCL.TO
CUU.V

QUIS.V
PLAN.V
CMMC.TO
TLO.TO
CGG.TO
TKO.TO
BU.TO – Broke out then stopped out. Needs to move back up to highs and consolidate.
AYA.TO – Broke out recently.
CNC.V – broke out of a consolidation recently, but I am sure there will be more if the price pushes up again.
Still Needs to Move Up and Consolidate

FMC.V
By Cory Mitchell, CMT
Want to learn how to scan for and trade these patterns? Know which ones to trade and which ones to leave alone? Learn this strategy and others in the Complete Method Stock Swing Trading Course.
Disclaimer: Nothing in this article is personal investment advice, or advice to buy or sell anything. Trading is risky and can result in substantial losses, even more than deposited if using leverage.