The S&P 500 is hovering just below all-time highs. The AD-line positive divergence which occurred back in June has been a historically reliable indicator that the S&P 500 would also follow through to new highs.
The S&P 500 is currently consolidating. Given the uptrend an upside breakout is expected, which would propel the index to all-time highs. When this occurs, a lot of stocks will also be breaking out of consolidations. The strong stocks are breaking out of consolidations now (Amazon is a recent example).
Let's look at the health of the stock market, then we'll look at some sectors that may see lots of trade opportunities setting up. Then we'll get to the watchlists.
That chart looks busy. But these are not indicators in the typical sense, most of which are total junk. Below are what these chart items represent, and what they are saying right now.
The top item is the Russell 2000 index, representing small-cap stocks, and the item below is the NYSE composite index representing a wide-array of stocks. Both are moving up, or at least not moving down. Typically before a major correction we see divergence where indexes don't confirm each other's moves. Right now we aren't seeing that. A wide range of stocks are participating in the rally.


Below this is the number of NYSE stocks above their 50-day moving average. A reading of 75 means 75% of stocks are above their 50-day moving average. This means lots of up-trending stocks and typically good swing trading conditions on the long side.


Below this is up-volume compared to total-volume. This is not particularly important at this time. It did help indicate when it was time to start buying stocks again after the crash though, see Four Signals For Finding Stock Market Bottoms.


Below this is volume, which also isn't very important at this particular time.


Squeezed below this is daily price change (1-day ROC). Bull markets tend to be calm, with 2% price moves in the S&P 500 (or in this case, the S&P 500 futures (ES)) being quite rare. When it spikes down below -2 that is a warning sign. Not a sell signal, but a warning sign. Markets are calm right now, which is favorable for the long side.


At the bottom is the NYSE AD-Line. This is useful for seeing if the S&P 500 is representative of the average stock (like all the stocks listed on NSYE). When the AD makes a new high and S&P 500 doesn't, the S&P 500 usually follows suit and also makes new highs. When the S&P 500 makes new highs but AD-Line doesn't, that is a sign that not as many stocks are participating in the rally. It is not a sell signal, but it means swing trading on the long side is becoming less favorable.
Sector Outlook
Looking a sector list can help spot areas where you may see trade setups developing. For example, look at how the Healthcare ETF (XLV) is consolidating, same with the Materials ETF (XLB). If an ETF that holds a bunch of stocks from a certain sector is coiled up, you can bet a bunch of the individual stocks are as well. This means you can watch for breakouts in the individual stock names.
The following are weekly charts.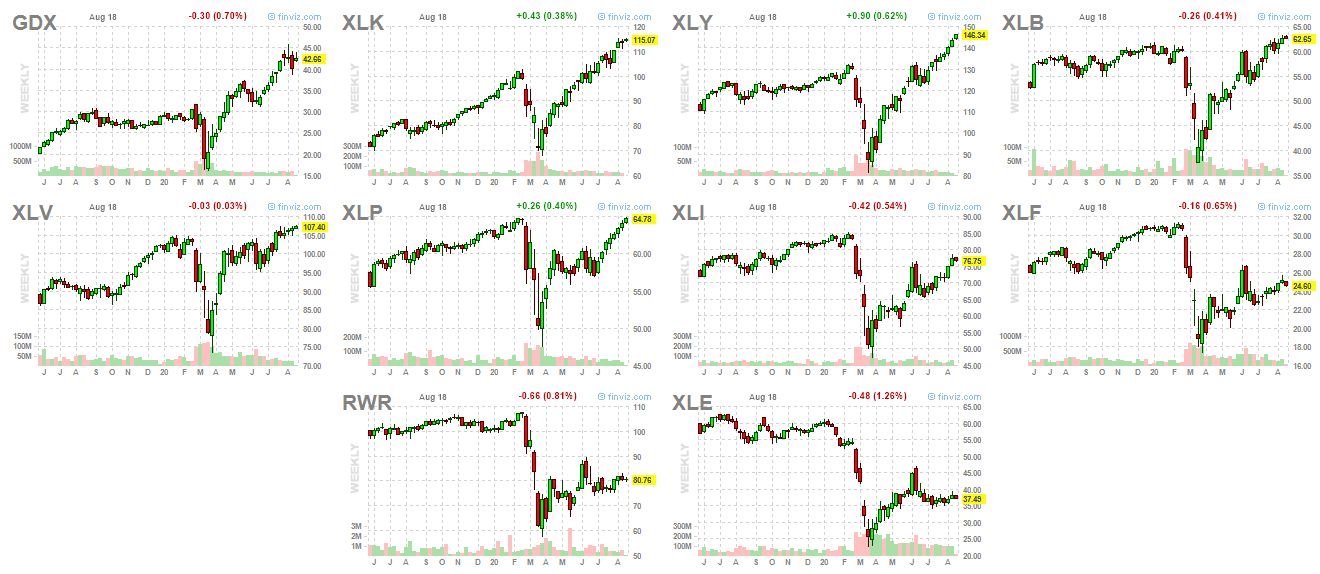 Run your typical stock screen, but add in an additional filter for Sector=X, with "X" being whatever sector you are interested in
I have a bunch of sector ETFs saved on Finviz (sorted by 6-month performance).
Quickly looking at the list we can see GDX is in a choppy period. This could turn into more gold stock trade setups if it tightens up. It is still strong, so strong stocks in this sector are fine to trade. Same goes for Technology (XLK) and Consumer Discretionary (XLY).

Materials (XLB) is tightening up, that is one to watch. Same with Healthcare (XLV).
The bottom half the list are the sectors that have performed the worst over the last 6-months. But we can see a tight consolidation in Industrials (XLI), Real-Estate (RWR) is coiled up and so is Energy (XLE). I like trading high momentum, so I don't consider the bottom of the list much. But if the ETFs start breaking out, then it may be worth taking a look at the top stocks in the sector.
As a final thing to narrow down your scan, if you are like me and you only like trading high momentum stocks in top sectors, then you can add in a filter that says: Sector=materials, technology, consumer discretionary, healthcare. This cut my scan list by about 25% as it eliminates stocks from the lagging sectors.
Stock Watchlists
These are the raw lists. These have not been filtered for Reward:Risk, proper volume structure, upcoming earnings, and the handles may not be fully formed. These stocks are added to my list, and then I narrow it down to a few that set up correctly and actually break out. All the details to watch for are discussed in the cup and handle article. Essentially, I am waiting for these to form the correct pattern.
I don't include stocks that have already broken out unless they are still close to the entry point.
Stocks with a * beside them are getting to close having fully formed handles.
In swing trading, position sizing is key. This article discusses how much stock to buy based on the risk of the trade, your risk tolerance, and the amount of capital you have.
These are by no means exhaustive lists. There are loads of stocks right now with these patterns. If you see others, throw them in the comments.

Most of these are continuation patterns now, not cup and handles. A continuation pattern has the same features as a handle.
US Stock Watch List
VIPS*
MUSA
NSTG*
CGEN*
AMED
SAH
SAM
SVM
GLOB
SHOP
TSM*
IMVT*
APPF*
From ChartMill Sqeeze Play Ideas
SPWH
ISRG
NTES
CRSP
TMO
ADSK
BABA
ADBE
Canadian Stock Watch List
F.TO
MOZ.TO
TRIL.TO
SVE.V
SVM.TO
TKO.TO
NOM.CN
BRC.V
RIO.V
From ChartMill Sqeeze Play Ideas
HTL.TO
TIH.TO
Some of these swing trade ideas could also be turned into day trades if you are looking to keep your risk exposure limited. See the "Breakout and Run" Day Trading Strategy for Stocks.
Cory Mitchell, CMT
Disclaimer: Nothing in this article is personal investment advice, or advice to buy or sell anything. Trading is risky and can result in substantial losses, even more than deposited if using leverage.