Stock market health is in decent shape. The stock indices are in recovery mode after the January and February decline. I'm willing to deploy capital.
I would also like to reiterate something, as I have received some questions on this topic. The scan list, the number of quality trades setups that occur on it, and how those trades act, is also an indicator of market health. A very important one! About a month ago when market conditions were not good, there were lots of commodity stocks setting up, breaking out, and acting very well. That is a signal it's ok to trade those types of stocks. That's why I did. Remember to use your scan lists and market health indicators together. They are not mutually exclusive. I deployed some capital because that signal was still strong, while other health indicators were weak.
I have not run my scan yet for this week, but the weekly scan is also part of my health check. Lots of setups and seeing recent trades perform well, that is an indicator as well, that shows health. Few setups, and recent potential trades not acting well, that is an indicator of poor health.
Taking it all together determines how much capital I deploy. The more things that are working, the more capital I deploy. The fewer things working, the less capital I deploy. This is all discussed in the Complete Method Stock Swing Trading Course. This is just a friendly reminder of how the pieces fit together.
Here are the stock market health details.
How the Market Indexes Are Doing
I look at 4 different US indices because they each tell a different story about overall stock market health. The stock market is healthiest, and swing trading stocks on the long side is most profitable, when all these indexes are in uptrends. Here is what each of the 4 indices represents:
Nasdaq 100 – Tech stocks
S&P 500 – Large US companies
NYSE Composite – A wide array of stocks , varying in size and industry
Russell 2000 – Smaller companies
I have also started including 2 Canadian stock indexes for those in Canada. The Composite tracks larger companies, while the Venture tracks very small companies.
Charts are provided by TradingView – the charts I personally use.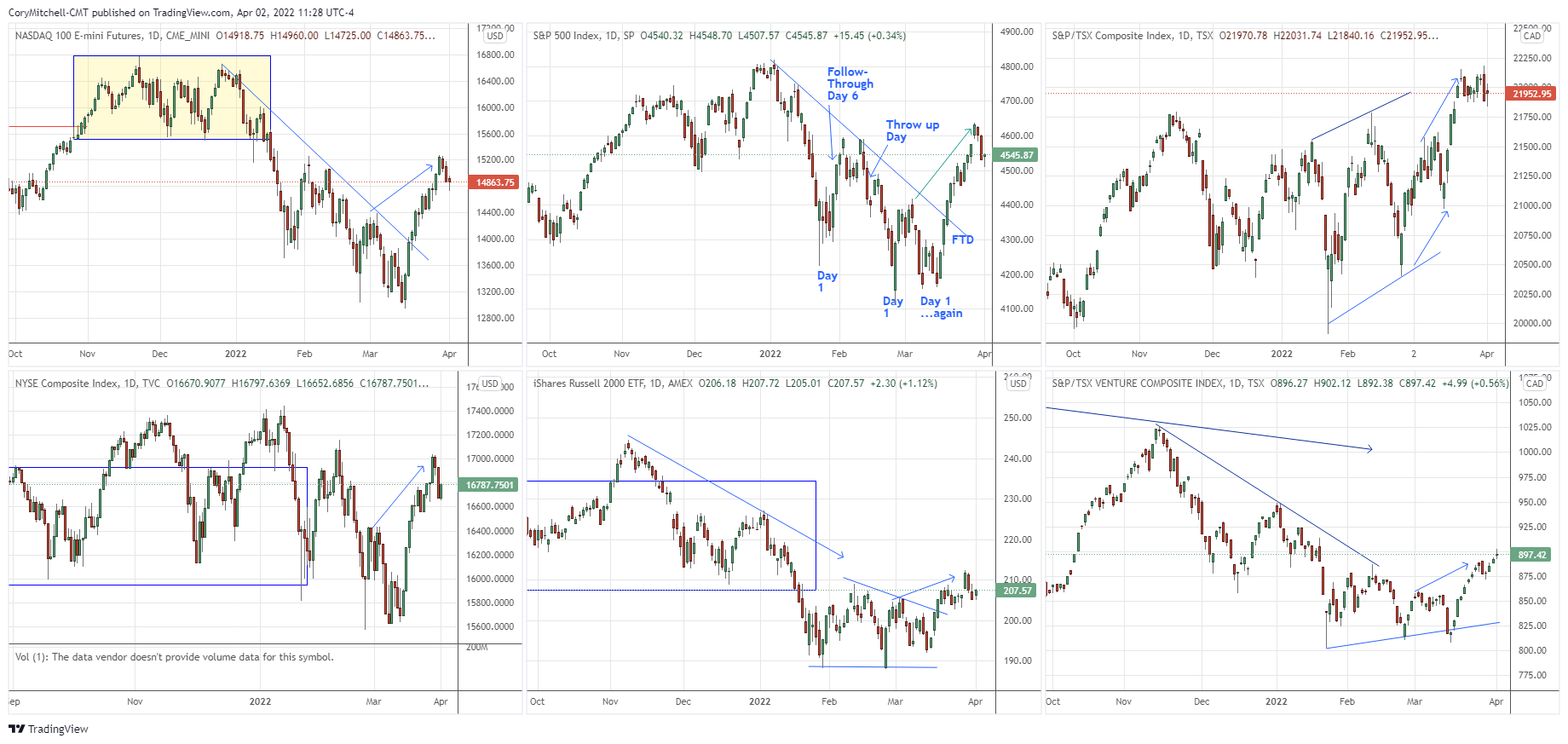 The Nasdaq 100 has rallied to a new swing high. This is one of two elements of an uptrend: high swing highs and higher swing lows.


The S&P 500, NYSE Composite, and Russell 2000 all have made higher swing lows and higher swing highs following the Feb. 24 low point. The Russell 2000 is moving sideways since late January, yet it's positive to see strong movement to the upside with the other indices.

The TSX Composite (Canadian) remains strong. It is at all-time highs as it's a commodity-stock heavy index, and commodities have done well.


The Venture (Candian) has made a new swing high.
Overall, all the indices are exhibiting uptrending qualities at the moment. That's enough to give me the green light for making purchases IF I see quality trade setups.
State of the Market Health Indicators
The following chart shows the market health indicators I track. They tell me the condition of the stock market overall, and whether it's a good time to be swing trading individual stocks.
All combined, these indicators are improving and that means I'm willing to deploy capital to long swing trades.
There was an upside follow-through day (FTD) on March 16. That was day 7 of an attempted rally that started on March 8. FTDs are often one of the signals of a possible turn higher. Thumbs up.


62% of S&P 500 stocks are above their 50-day moving average. 55% of all US stocks are above their 50-day moving average. It's generally much easier to swing trade profitably (on the long side) when more stocks are above their 50-day average. When this indicator is below 50%, it tends to be sideways or downtrends for most stocks/indexes. We are now above 50. Thumbs up.


Volume is not important at this exact moment.


The dark blue bars are the daily percentage movement of the S&P 500. Big moves are associated with downtrends and turning points. Small values are associated with an uptrend. Values of -2 are a warning sign anytime they occur. There have been no -2% drops since March 7. This is a good sign. Still a little volatile, but improving.


The blue line is the cumulative NYSE Advance-Decline Line. The S&P 500 has moved above its highs from early March, and so has the AD line. The AD line is confirming the moves in the S&P 500. Based on the Feb 9 swing high, the AD line is lagging. The S&P 500 has moved above its Feb 9 swing high, while the AD line is flatlining below it. Weak to neutral.


The columns of blue ( I like blue, ok!) are NYSE up volume divided NYSE total volume. It is an indicator of buying and selling enthusiasm. Levels below 10% and above 90% are important (or back-to-back days above 80%). Nothing Important here at the moment. The old way of creating this indicator on TradingView no longer seems accurate. I created an indicator called UpVol/TVol NYSE Lowry Upside Days. You can view it here, or search "Lowry" under Indicator.


My ultimate indicator is my scan lists and how recent trades are working. It doesn't matter how good conditions are. If I can't find quality trade setups that trigger me into trades, then I'm not trading. The flip side is also true: if conditions seem poor, yet there are lots of setups and those trades are working out well, then I will deploy some capital. We have to listen to what our scan list and trades are telling us (regardless of strategy) because if we keep losing, something is wrong. We need to stop and assess, and not keep piling up losses. If trades are working, we want to ride that train.
What I'm Doing Right Now
I'll be scanning again this weekend. Watchlist published by Sunday evening. The prior watchlist still has some trades setting up (they will be included on the new list).
I am primarily looking for contraction patterns in stocks that are near their highs, or cup and handle patterns as a stock price recovers from a decline (likely also near highs now).
Now is a great time to learn how to swing trade stocks. If this uptrend continues, we're just getting started and there's a boatload of money to be made in the coming months.

To learn how to find explosive trades, as well as everything else you need to know about swing trading, in my Complete Method Stock Swing Trading Course.
By Cory Mitchell, CMT
Disclaimer: Nothing in this article is personal investment advice, or advice to buy or sell anything. Trading is risky and can result in substantial losses, even more than deposited if using leverage.