The US stock indices continue their attempt to push higher off the June 16/17 lows.
There was a Follow-Through Day (FTD) on June 24 which remains in effect. The other market health indicators are still not confirming. Therefore, this remains a "cautious buy" period. I'm deploying some capital, but until we start to see more signs of strength I'm not loading up on long trades just yet.
Recent long swing trades that triggered are working, but haven't reached their targets yet. I continue to scan and look for potential trades at this time.
How the Market Indexes Are Doing
I look at 4 different US indices because they each tell a different story about overall stock market health. The stock market is healthiest, and swing trading stocks on the long side is most profitable, when all these indexes are in uptrends. Here's what each of the 4 indices represents:
Nasdaq 100 – Tech stocks
S&P 500 – Large US companies
NYSE Composite – A wide array of stocks, varying in size and industry
Russell 2000 – Smaller companies
2 Canadian stock indices are also included. The Composite tracks larger companies, while the Venture tracks very small companies.
Charts are provided by TradingView – the charts I personally use.
Those are regression channels on most of the charts – they create a channel of "best fit" to the price action, helping to highlight the overall trend.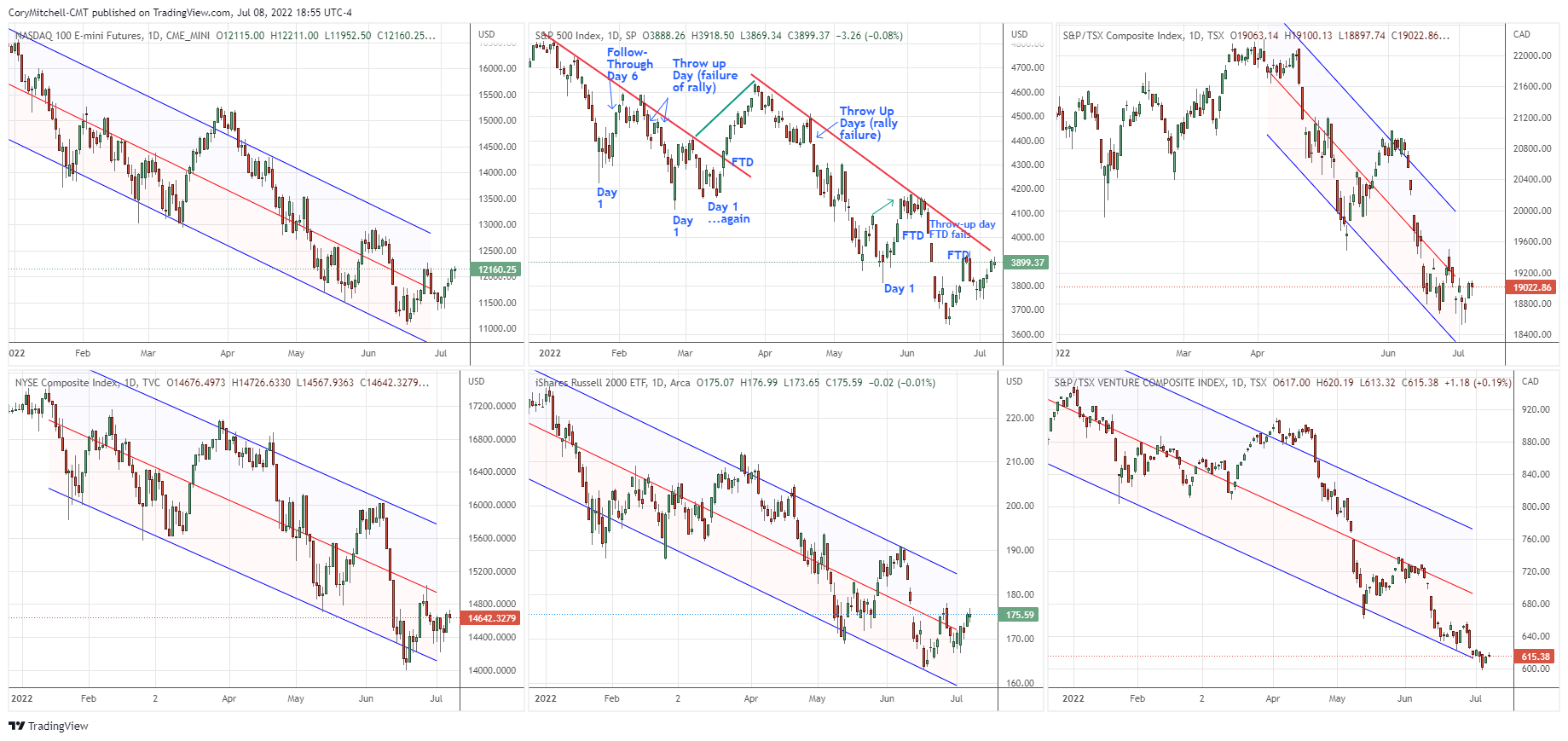 All the indices are in overall downtrends. The US indices are trying to push higher the last couple of weeks. The Canadian indices are near lows as oil and gold stocks have sunk recently.
The FTDs in the S&P 500 and Nasdaq 100 are the first signal to potentially start taking some long trades in strong stocks that are forming quality setups. But capital deployment should be minimal at this stage. If the market health indicators (discussed below) improve, then I'm willing to deploy more capital to long trades.
State of the Market Health Indicators
The following chart shows the market health indicators I track. They tell me the condition of the stock market overall, and whether it's a good time to swing trade individual stocks.
The market health indicators are trying to improve.
28% of S&P 500 stocks are above their 50-day moving average. 38% of all US stocks are above their 50-day moving average. It's generally much easier to swing trade profitably (on the long side) when more stocks are above their 50-day average. When this indicator is below 50%, it tends to be sideways or a downtrend for most stocks/indexes. Poor but improving.


Volume was relevant on June 24 when it increased with the 3% price rise to create a FTD.


The dark blue bars are the daily percentage movement of the S&P 500. Big moves are associated with downtrends and turning points. Small values are associated with an uptrend. Values of -2 are a warning sign anytime they occur. Still seeing some big swings, such as the 2% drop on June 28…but nothing since then. I'll call this indicator Neutral currently.


The blue line is the cumulative NYSE Advance-Decline Line. It is currently showing a positive divergence as it held above its prior low (green line) while the S&P 500 has made a lower low over that time frame. That is bullish, but not enough to act on alone. More recently it is moving with the S&P 500. Neutral to slightly bullish.


The blue columns are NYSE up volume divided by NYSE total volume. It tracks buying and selling enthusiasm. The last key level was a 92% downside day on June 16. There was an 89% upside day on July 7. Not quite significant, but still good to see. Neutral.

The old way of creating this indicator on TradingView no longer seems accurate. I created an indicator called UpVol/TVol NYSE Lowry Upside Days. You can view it here, or search "Lowry" under Indicator.

The ultimate indicator is how many quality setups there are and how trades are working. The stocks I've been watching have been running to the upside, so that's a good sign. But they haven't reached targets, so I'm still not sure if long trades are fully working yet. That is why I'm only willing to deploy a portion of my capital.
My entire method of swing trading stocks is covered in the Complete Method Stock Swing Trading Course. Now is a great time to review the material and get ready for the next opportunities which are coming our way. Markets always turn around, and when they do, you want to be armed with ways to profit from it.
What I'm Doing Right Now
I will be scanning this weekend or early next week to find more setups I like the look of. The more there are the better because that shows better market health.
I am day trading, always. Lots of movement and opportunity day trading stocks, but I primarily day trade the EURUSD every morning for 1-2 hours. Lots of potential there as well.
Take the time to refine your strategies or potentially learn another style of trading while the swing trading is slow.
By Cory Mitchell, CMT
Disclaimer: Nothing in this article is personal investment advice, or advice to buy or sell anything. Trading is risky and can result in substantial losses, even more than deposited if using leverage.