Last week the S&P 500 and the Nasdaq 100 both had a Follow-Through day (discussed more below). That is the first signal to potentially start taking some long swing trades. Overall, conditions remain poor, but there are pockets of the stock market performing well, so putting a portion of capital to work is ok (but definitely not all).
I rate market conditions on a scale of poor, ok, good, or ideal. As markets turn lower they progress from ideal down to poor. As the stock market starts moving up, it progresses from poor, to ok, to good, then ideal. Not always quite in that order. Currently, we are still in poor conditions but could be transitioning to ok conditions, and potentially higher based on the Follow-Through day. Due to the uncertainty, I am keeping most of my account in cash, and only delegating a small amount to valid long swing trades, should they occur.
The trading system in the Complete Stock Swing Trading Course is designed so that we don't really care if the market goes up or down. We make money in good times and stay out or trade very little during the bad times (or possibly take some short trades if desired).
How the Market Indexes Are Doing
I look at 4 different US indexes because they each tell a different story about overall stock market health. The stock market is healthiest, and swing trading stocks on the long side is most profitable, when all these indexes are in uptrends.
I have also started including 2 Canadian stock indexes for those in Canada.
Charts are provided by TradingView – the charts I personally use.
The US indices are in downtrends, recently making lower swing lows and lower swing highs.
Small companies, which are tracked by the Russell 2000 and the TSX Venture in Canada have been the hardest hit.
There has been a bounce recently, primarily in the Nasdaq 100, S&P 500, NYSE Composite, and the TSX Composite. That is of course positive, but the downtrends remain. An upside reversal hasn't occurred until we start seeing higher swing highs and higher swing lows.
A Follow-Through day (see 'market health indicators' article below) is an early indication of a possible turn. It has occurred, but on its own, it's prone to producing some false signals. When it occurs, I start allocating a bit of capital. To start allocating more, we also want the health indicators to improve. Right now, those market health indicators are still in poor shape…
State of the Market Health Indicators
The following chart shows the market health indicators I track. They tell me the condition of the stock market overall, and whether it is a good time to be swing trading individual stocks.
All combined, these indicators are weak, indicating conditions are not ideal for initiating long swing trades.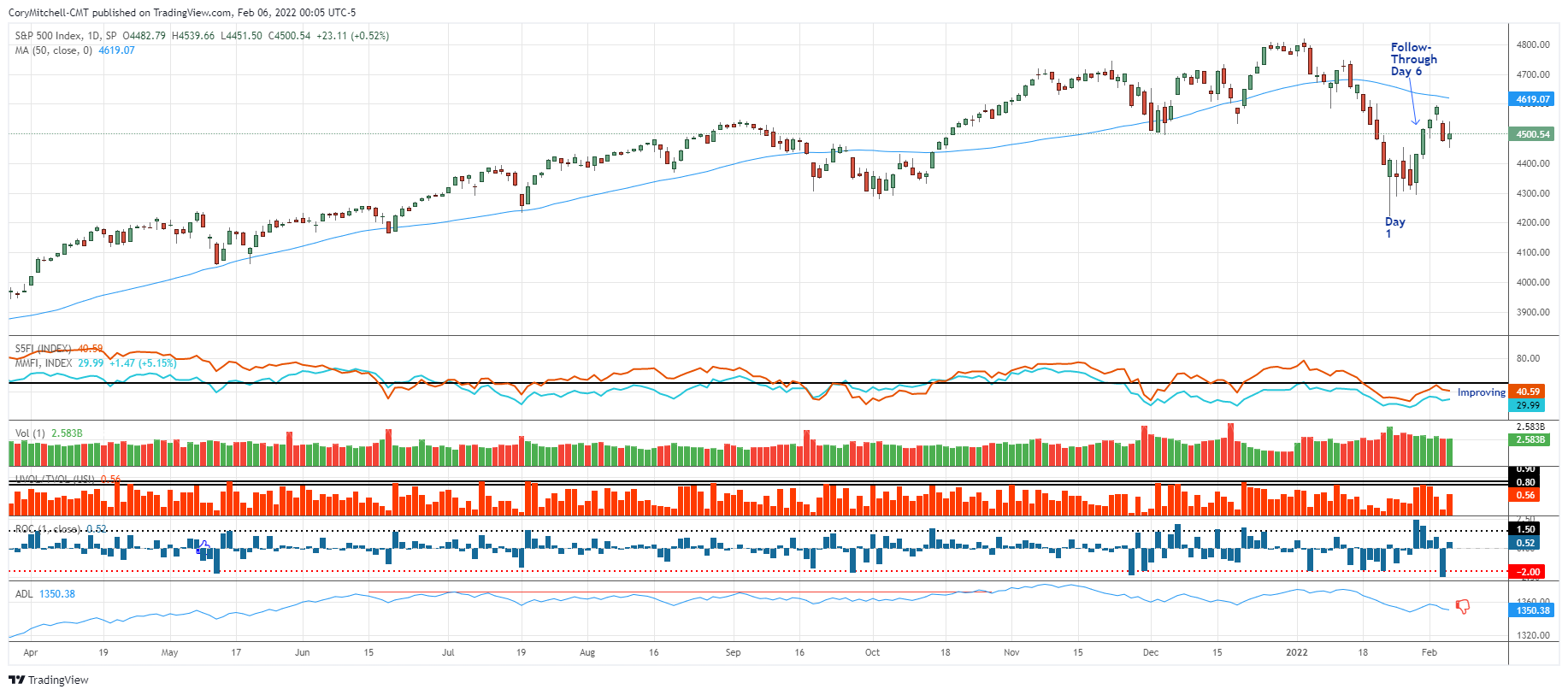 40% of S&P 500 stocks are above their 50-day moving average. 30% of all US stocks are above their 50-day moving average. It is generally much easier to swing trade profitably (on the long side) when more stocks are above their 50-day average. When this is below 50%, it tends to be sideways or downtrends for most stocks/indexes. We are below the 50% but improving since late January.

Volume is not applicable currently. On Day 6 of the attempted there was a 1.25%+ gain and volume was higher than on Day 5. That mattered for the Follow-Through day.

The red bars are showing Upvolume divided by Totalvolume on the NYSE exchange. Above 0.9 or below 0.1 are values I tend to watch for. Nothing of interest here currently.

The blue bars are the daily percentage movement of the S&P 500. Big moves are associated with downtrends and turning points. Small values are associated with an uptrend. Values of -2 are a warning sign anytime they occur. Big -2.44% drop on Feb. 3 shows this is still downtrend behaviour.

The blue line is the cummulative NYSE Advance Decline Line. It is as weak as the S&P 500, so it is confirming the downtrend currently.
What Am I Doing Right Now
I am scanning for stocks to buy that I like the look of. I am willing to deploy some capital…approximately 20-25% of my account to swing trades. The rest stays in cash or is used for day trading.
There are also definitely swing trading setups that are working from the last Stock Watchlist (we'll see how they turn out). So that is also encouraging. I will be posting a new watchlist early in the week, assuming conditions don't deteriorate.
I do enjoy day trading stocks during times like this because it's possible to grab several percent in a matter of 10 or 20 minutes in stocks that are moving (and many are). Energy-related stocks tend to dominate my day trading watchlist, but I am willing to trade any stock with the potential to move significantly.
To learn more about scanning to find explosive trades, as well as everything else you need to know about swing trading, check out my Complete Method Stock Swing Trading Course.
By Cory Mitchell, CMT
Disclaimer: Nothing in this article is personal investment advice, or advice to buy or sell anything. Trading is risky and can result in substantial losses, even more than deposited if using leverage.