From the Nov. 21 update we already knew that conditions were deteriorating for swing trading, and that it was best to sit on the sidelines. The week that followed saw stock prices decline, confirming that it is best not to be taking new long trades.
I will not be taking new long swing trades until conditions improve.
At the bottom of the article are examples of recent swing trades.
The Complete Method Stock Swing Trading Course is currently 20% off during the Black Friday sale. It covers how to assess market health so that we are trading at ideal times, and saving our capital when conditions aren't ideal. It also reveals several swing trading strategies.
How the Market Indexes Are Doing
I look at 4 different indexes because they each tell a different story about overall stock market health. The stock market is healthiest, and swing trading stocks on the long side is most profitable, when all these indexes are in uptrends.
Recently (far right of the charts), we have all the indexes dropping sharply. The Russell 2000 commenced dropping well before the others, a sign that smaller-cap stocks were not participating in the rally. The NYSE Composite turned down not long after, followed by the S&P 500 and Nasdaq 100. When fewer indexes are moving up, that is going to make trading tougher on the long side. Better to stay out. This is discussed in the Nov. 21 update.
This is not a forecast that prices will drop further. I see no need to forecast that. It simply means that I refrain from taking swing trades until conditions improve in the indexes. That could happen next week, or it could take months.
State of the Market Health Indicators
The following chart shows the market health indicators I track. They also tell me the condition of the stock market overall, and whether it is a good time to be swing trading individual stocks.
51% of S&P 500 stocks are above their 50-day moving average. 38%% of all US stocks are above their 50-day moving average. It is generally much easier to swing trade profitably (on the long side) when more stocks are above their 50-day average. The 38% level means lots of stocks are at least short-term downtrends currently; not ideal for buying.

Volume is flat and not a major concern right now.

The red bars are showing Upvolume divided by Totalvolume on the NYSE exchange. Above 0.9 or below 0.1 are values I tend to watch for. The readin on Friday was 0.09. That means only 9% of total stock market volume occured in stocks that rose. 91% of volume occurred in stocks that dropped.

The blue bars are the daily percentage movement of the S&P 500. Big moves are associated with downtrends and turning points. Small values are associated with an uptrend. Values of -2 are a warning sign anytime they occur. We had a 2.2% drop on Friday. That warns of increased volatility, typically associated with downtrends or whip-saw periods as opposed to uptrends (small numbers). [Remember, this is not a forecast, it is just mearusring current conditions].

The blue line is the cummulative NYSE Advance Decline Line. The AD line has absolutely plunged recently, and it started plunging well before the S&P 500 dropped. This condition is not ideal for swing trading on the long side.
Conditions are can turn quickly, at which point I would be willing to buy into individual swing trades on the long side. But for right now, I am content to keep my account in cash.
The Black Friday sale is on! Save 20%on the Complete Method Stock Swing Trading Course.
Recent Swing Trade Examples
I finally closed out SIG. It didn't quite hit my target, but was getting pretty close. I incorporate the aggressive trailing stop loss near the target to lock in gains. Good for a 20%+ gain. (+3.4R)
TTM was an example of a trade that didn't work out. It slid as the indexes slid lower. Was a 5% loss on the capital invested. (-1R) I didn't like this one because it has a tendency to gap almost daily. Was nice other than that though.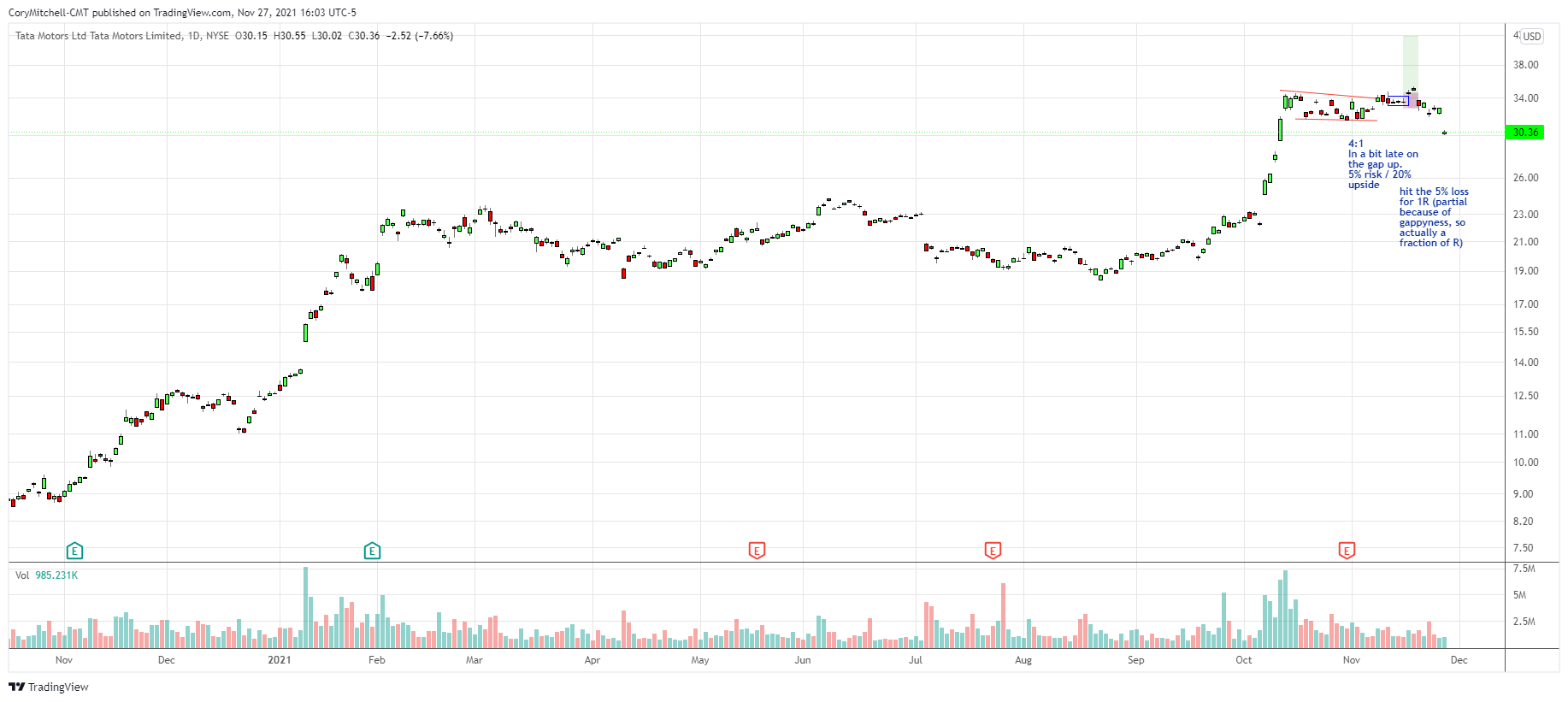 UNS.TO (Canadian) was a recent example of a breakout that occurred right after earnings. Recall, if the price gaps through the entry, you can still put out an order at the original entry point as the price may come back and touch it. It was good for a 4:1 reward:risk and 19%+ gain. (+4R)
A similar setup occurred in BJs Wholesale (BJ) about a week later on Nov. 18. I, unfortunately, didn't catch that one. And it just barely pulled back to the prior recent highs, so that one was harder to catch anyway.
Birchcliff (BIR.TO – Canadian) also took off after earnings, but ultimately caught me in a loss. My original risk was about 5.5% of capital invested. The stock gapped below that and knocked me out for a 8.5% loss. That's fine. Slippage happens. If you were risking 1% of the account on the trade, this means the trades resulted in a 1.5% loss (-1.5R) on the account. Still very manageable and well below the average expected profit of 3:1+ (3R) on our swing trades (4:1 in this case).
By Nov. 19, if you were watching the Market Health Indicators, they were already back into warning territory. So no trades from then on.
So a couple of losers for -2.5R and a couple closed trades for +7.4R, for a net of +4.9% added to the account on recently closed trades (if risking 1% of the account per trade…see position sizing). I am happy with that considering the meltdown that occurred in the stock market this past week.
That's how we do it. And if you want to learn more the Complete Method Stock Swing Trading Course is still 20% off currently for Black Friday.
By Cory Mitchell, CMT
Disclaimer: Nothing in this article is personal investment advice, or advice to buy or sell anything. Trading is risky and can result in substantial losses, even more than deposited if using leverage.