The Stock Market Health Indicators are in positive territory. This means I am willing to deploy capital to swing trades. Trades have been working out well recently, which is another favorable sign.
It is still earnings season, so be alert for that. I don't typically hold swing trades through earnings.

I am currently focusing on trading contraction breakouts. Some of these contraction breakouts are occurring from larger cup and handle patterns due to the recent price decline and then rally back toward the highs in the many stocks.

Here is the most recent swing trading watchlist. A new list will be coming out early in the week.
The Complete Method Stock Swing Trading Course is currently 20% off during the Black Friday sale.
How the Market Indexes Are Doing
I look at 4 different indexes because they each tell a different story about overall stock market health. The stock market is healthiest, and swing trading stocks on the long side is most profitable, when all these indexes are in uptrends.
They are all in uptrends currently.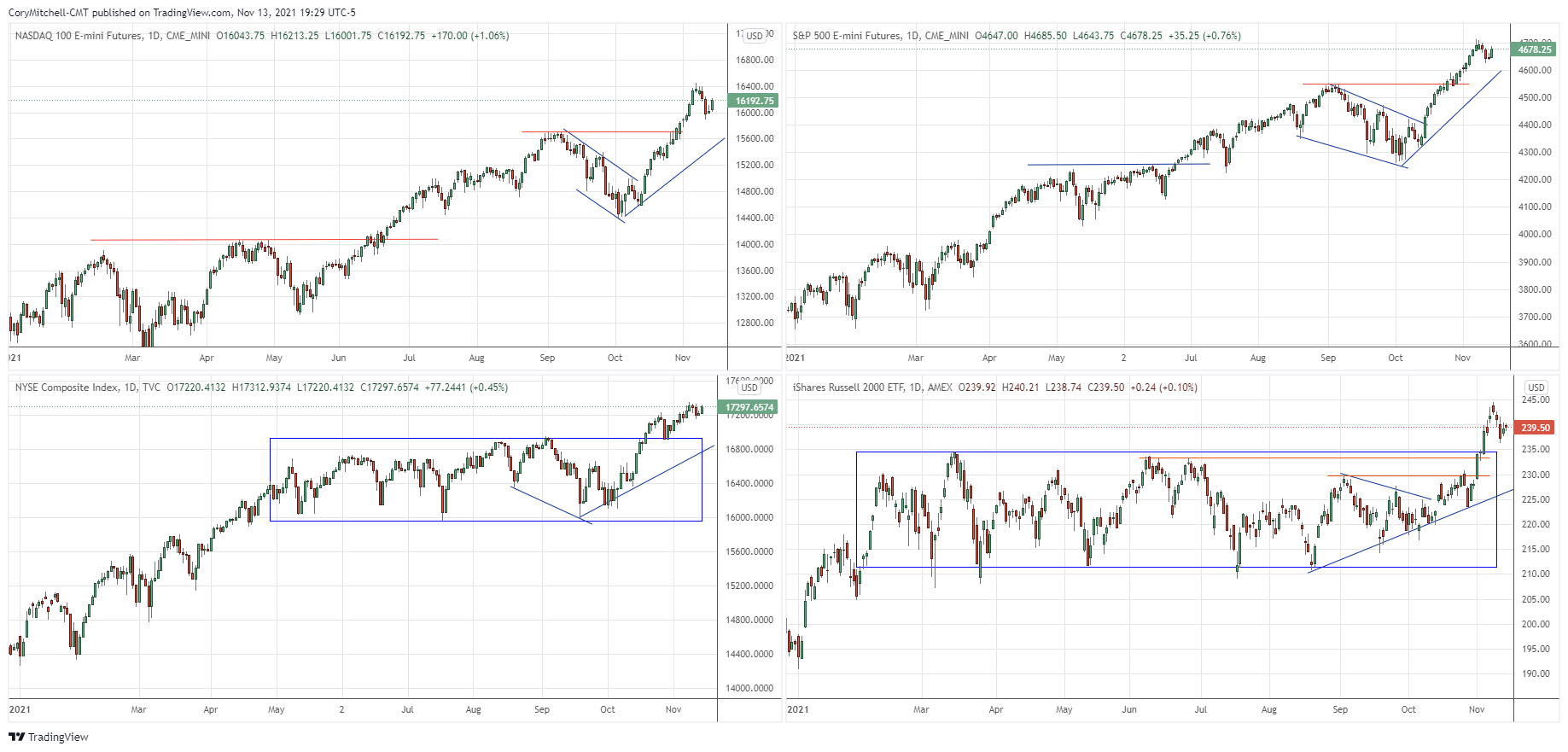 Summary: This tells me there is broad participation in the rally. Most stocks are doing well. Not much is being left out which makes it easier to make money on the long side.
State of the Market Health Indicators
The following chart shows the market health indicators I track. They also tell me the condition of the stock market overall, and whether it is a good time to be swing trading individual stocks.
73% of S&P 500 stocks are above their 50-day moving average. 64% of all US stocks are above their 50-day moving average. It is generally much easier to swing trade profitably (on the long side) when more stocks are above their 50-day average. Current levels indicate tradable swing trading conditions.


Volume is flat and not a major concern right now.


The red bars are showing Upvolume divided by Totalvolume on the NYSE exchange. No important values recently. Above 0.9 or below 0.1 are values I tend to watch for.


The blue bars are the daily percentage movement of the S&P 500. Big moves are associated with downtrends and turning points. Small values are associated with an uptrend. Values of -2 are a warning sign anytime they occur. All small figures recently, which is consistent with an uptrend.


The blue line is the cummulative NYSE Advance Decline Line. It is moving higher as the S&P 500 and other indexes move higher. No warning signs here.
The Black Friday sale is on! Save 20% on all courses for a limited time.…
Want to learn more about assessing market conditions, so you know when to trade, when to be aggressive, and when to stay out? Learn all that, plus strategies and risk management in the Complete Method Stock Swing Trading Course.
By Cory Mitchell, CMT
Disclaimer: Nothing in this article is personal investment advice, or advice to buy or sell anything. Trading is risky and can result in substantial losses, even more than deposited if using leverage.