Let's look at swing trading and day trading, the differences between them, and which style of trading is a better fit for you.
Each trader is encouraged to trade the way they're most comfortable with. It's likely traders will classify themselves as a swing trader, day trader, or possibly both (like me). There are also investors, who hold positions for much longer than day traders and swing traders, and tend to be much less active in the market.
Day trading is taking trades that typically last seconds to minutes. Trades are not held overnight. A day trader may take multiple trades per day. They typically trade for one or more hours per day; although some may trade for as little as 30 minutes.
Swing trading is taking trades that typically last days to months. Trades are held overnight, and the swing trader may take multiple trades each month, possibly even each week. Swing trading typically takes about one hour a day to one hour a week, depending on the number of trades and how much research is done. Less time dedicated will typically mean fewer trades.
Let's go into more detail, including earning potential, capital requirements, and what markets to trade.
Understanding Day Trading
For those who don't like holding positions overnight, then day trading is the best option. Trying to force a different trading style onto a personality that won't accept it is a sure way to burn out or experience poor performance. On the other hand, traders who can't stand to stare at a screen all day, or monitor each gyration of the market, are more likely to be swing traders.

Day trading is taking positions during the day, and exiting those positions within the same day. In the forex market, day trading needs a somewhat more dynamic definition than a day trader in the stock market might receive. A stock day trader will generally trade a specific market while it's open, and that is it. 9:30 am to 4 pm EST for US stocks, for example. A forex day trader can trade any time during a 24-hour period; certain times of day are better than others, though.

Day traders don't hold positions overnight though—whatever their personal "night" may be. Positions are taken and exited within the same trading day, with the number and duration of trades varying drastically from trader to trader. When I day trade, I average about three trades per day while trading for about 1.5 hours. When I traded for a proprietary trading firm, I traded five to six hours per day, and often made more than 50 roundtrip trades during that time (roundtrip means opening and closing the trade).

Some day traders may make many trades a day, or only a few. It really depends on your personality and the strategies you're employing.

Scalping is a form of a day trading that capitalizes on small price moves over and over again, often with large positions since a very small stop loss can be used to control risk. I consider myself a scalper because my day trades are based on a 1-minute chart and typically only last a few minutes. Here's an example of how a day trader's day may look. The following chart shows forex trades on a 1-minute chart that generated a return of 8.43% on the account in about 2 hours of trading. That's a very good day, and not typical! Some day traders choose to be more active than this, or less.
To learn how to day trade like this, the EURUSD Day Trading Course shows you how to do it.
Here's another example.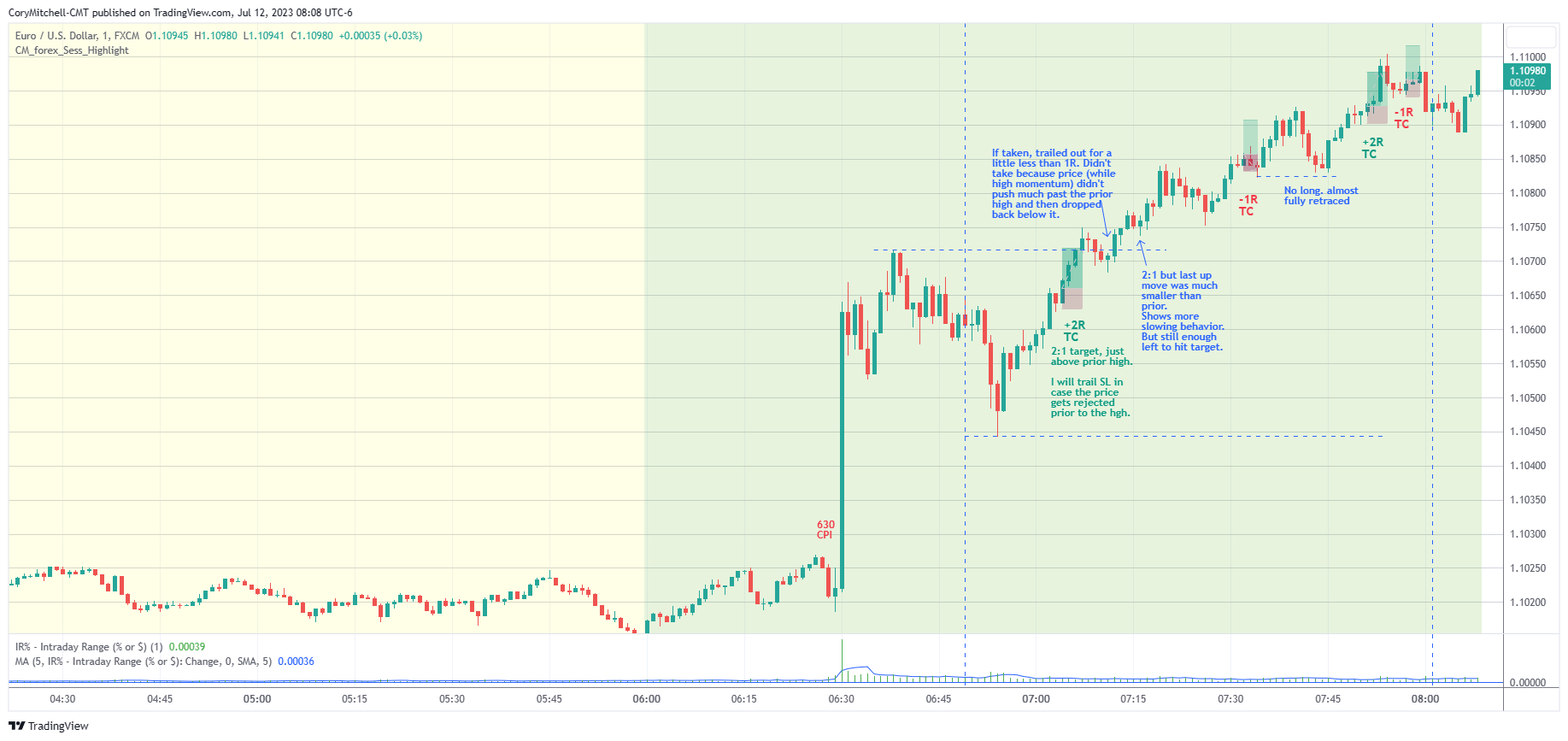 If you wish to be a stock scalper, stick to stocks with high volume and lots of daily movement. I cover this in the Price Action Stock Day Trading Course.
If you wish to be a forex scalper, open an ECN-style trading account. An ECN account is actually recommended for all forex day traders because the bid/ask spread in these accounts is smaller than with a normal account.
Also give some thought to which market to day trade: stocks, forex, or futures? All are viable, but one market may fit your personal circumstances better.
Capital requirements for day trading: Day trading forex requires only about $100 in starting capital, although more is recommended. You can day trade futures, like the popular S&P 500 e-minis (ES), with about $8,000 (less if you trade micro contracts), and to day trade US stocks requires $25,000 minimum (not applicable to other countries). Stock day traders outside the US are not subject to the $25k minimum (trade however much capital you like). This may also help you decide if you day trade or not, and what market you trade.
Potential day trading returns: If done right, day trading provides high return potential because multiple trades can be taken each day. Returns can then be compounded daily. High returns are the easiest to make on a small account. As the account gets bigger, percentage returns generally start to drop off since it becomes harder to trade in and out of positions very quickly with larger position sizes.
Understanding Swing Trading
Swing traders place trades each day, or a few trades per week or month, but don't necessarily close their positions each night. Their trades last from a day to a week or even months, depending on the time frame used for the trade setup.
Swing trading can be done in stocks, ETFs, forex, futures, or options.

Swing traders can be very active, trading multiple positions and thus opening and closing different trades throughout the week, or they may focus on only a couple of assets, having an entry or exit signal only once or twice every couple of weeks.
Here's an example of a swing trade. This swing trade was held for about 2 months and captured a profit of 115%. The initial risk on the trade was 7% (meaning if the stock dropped 7% after entering, close it). This stock was published on the Swing Trading Stock Watchlist which is usually updated every one to three weeks. It is based on the daily chart.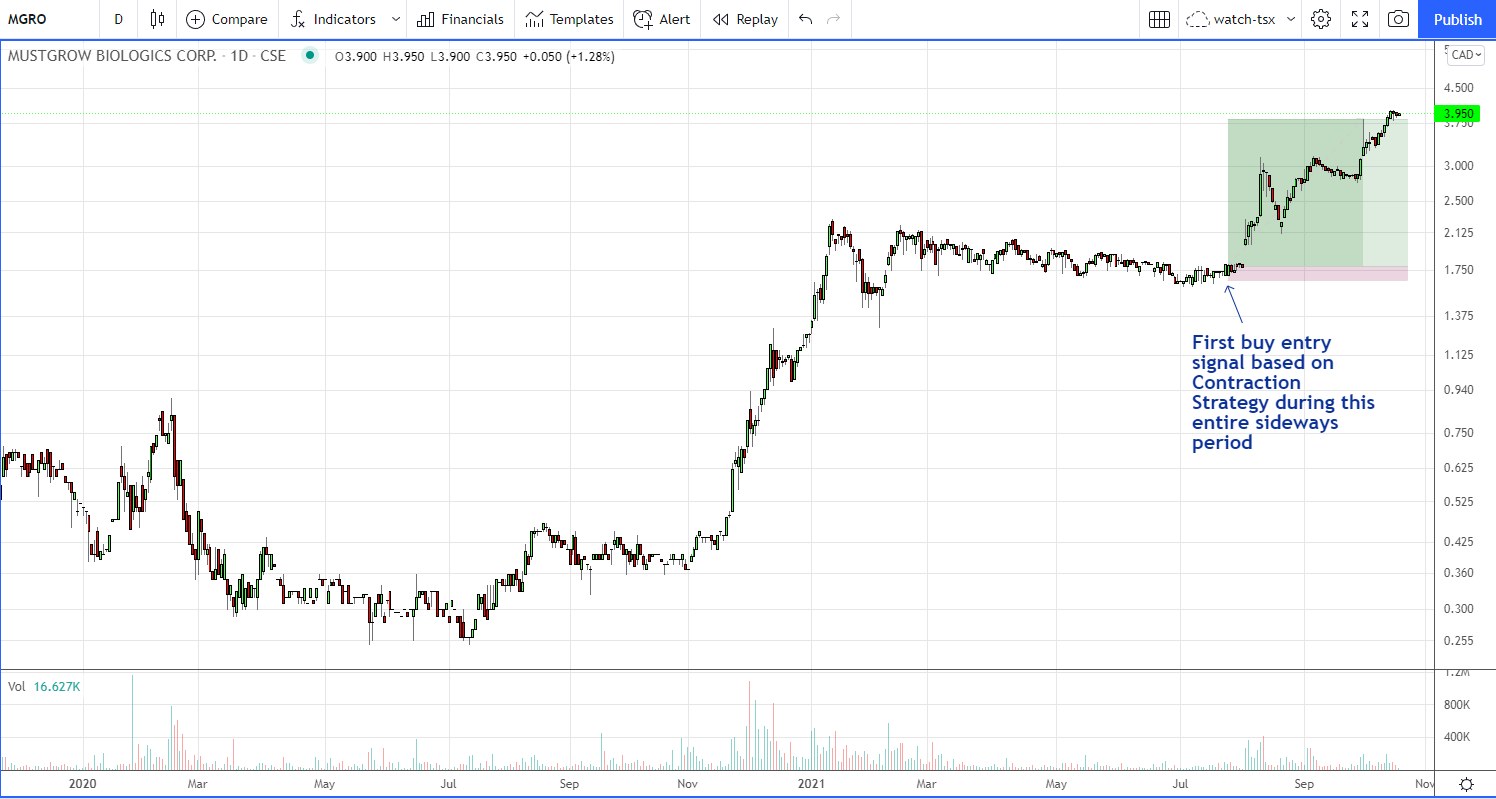 To learn how to swing trade stocks like this, the Complete Method Stock Swing Trading Course shows you how.
Here's a more recent example, in a smaller more stable stock with smaller stop loss and target percentages.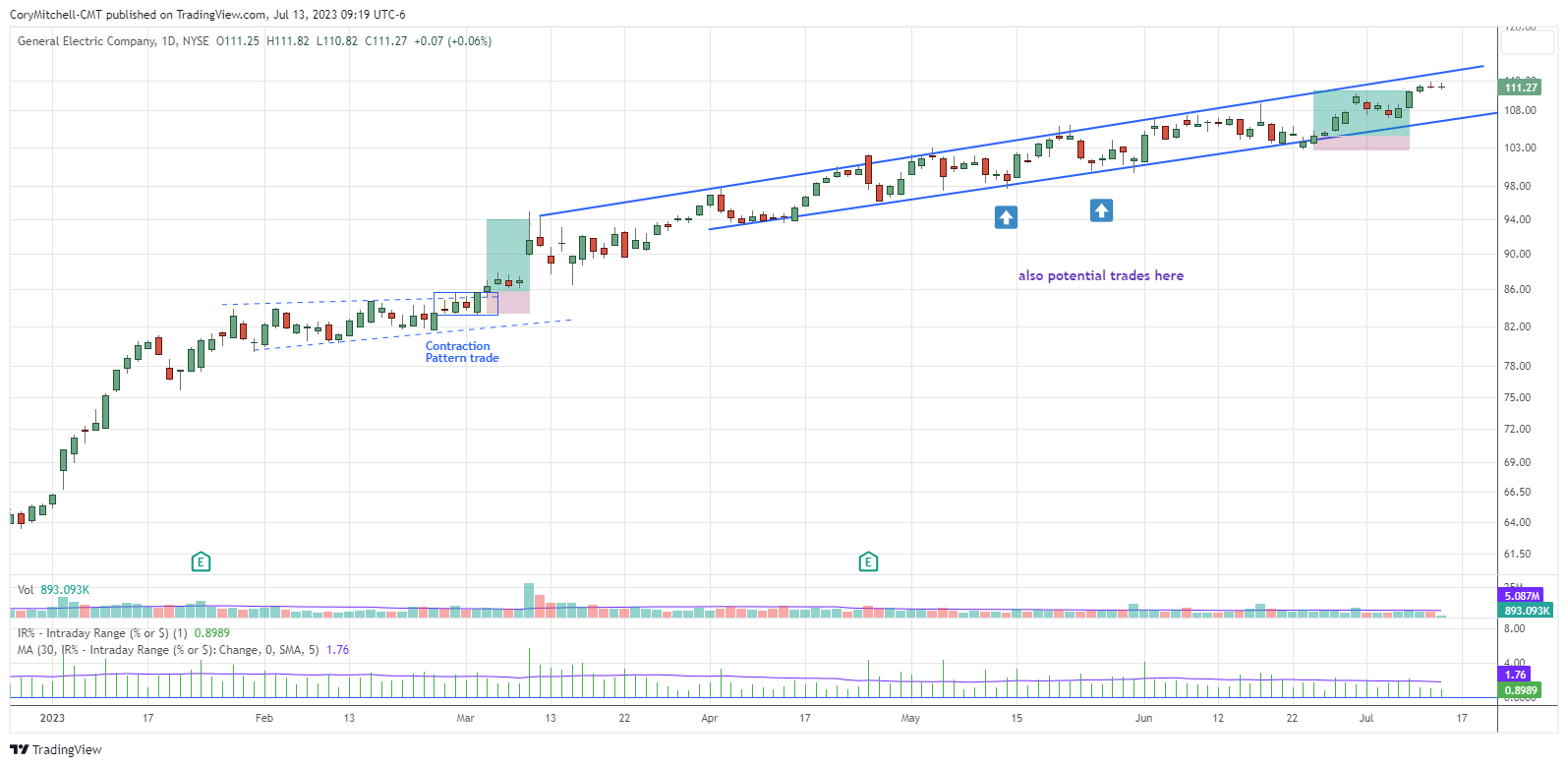 Some swing traders open and close trades during the day, actively watching for trade triggers to enter and exit. Other swing traders, like myself, look through charts after the market closes and place trades when the market is closed. The orders are executed the next day if the market moves to the order price.
Capital requirements for swing trading: With swing trading, you can start with about $500 for forex, I would recommend starting with at least $5,000 for swing trading stocks (if you don't pay commissions, you can start with less), and for futures I recommend $15,000 or more (much less if you trade the less liquid micro contracts).
Potential swing trading returns: The profit potential for swing trading is high. Trades are taken regularly which means profits can be compounded weekly and monthly in many cases, and sometimes even daily (for very active swing traders). Return potential is typically a little lower than day trading, since day traders can capture more profits with more trades. BUT, that only applies to smaller accounts. As accounts get larger (into the hundreds of thousands and up), swing trading can become more profitable than day trading since it is easier to deploy large amounts of capital on longer time frames.
Swing Trader or Day Trader? Some additional considerations
There are some limitations and advantages for both swing trading and day trading. While someone may wish to be a day trader or a swing trader, a few things may stand in the way of successfully accomplishing that, and these issues must be dealt with before trading commences.
Technology
Day trading requires the trader to have very fast broker execution and fast reflexes to catch quick moves. This becomes more pivotal as the chart time frame used for trades decreases. A scalper attempting to grab a quick price move can ill afford to spend 10 seconds typing in an order. Orders need to be ready to go and filled in an instant. That means setting up the platform so it can handle quick executions.
Prospective day traders must legitimately ask themselves if they're set up to effectively day trade, or if their current circumstance is likely to pose problems. Due diligence is required in preparing to make day trades, especially if you require rapid-fire execution to capture quick moves. It should also be noted that while a demo account may provide some idea of how a day trading system will work, the platform may perform very differently under live conditions where slippage (orders not executing at the price you expect), liquidity, and platform latency ("lag") issues become an actual concern.
Swing traders generally don't need to worry as much about execution, the spread, or latency issues as much. When a trade lasts a couple of days or a week, a few pips or a few cents difference in execution prices doesn't make a big difference. That also means swing traders don't need rapid execution, although setting the platform up so trades can be executed quickly when needed is encouraged.
Trade Time, Screen Time, Learning Time
Given the length of time a trade may last, swing traders should place profit targets and stop loss orders on their positions, as it's quite possible the level could be hit while they're not watching the market. Stops and target are also used by day traders, but since day traders are watching their screens, they may manually exit trades if they wish.
The major advantage of swing trading is that it doesn't have to take up a lot of time. Once a strategy (or several) is mastered and a trading plan is in place, charts are scanned quickly each day, or once or twice a week, for trade candidates. This may only take an hour or two a week. Orders are then set and the trader walks away.
Day traders will typically need to spend at least a couple of hours a day practicing trades and reviewing them.
A trader must stay on top of what's working and what isn't in terms of strategies and their own tendencies. A Mistake Journal is useful for this, to track how much money is lost making correctable mistakes. These types of exercises are add to the time requirement of both swing traders and day traders.
Trading is a full-time job during the initial stages of the learning curve, whether swing or day trading. But most of those hours aren't spent actually trading; they are spent practicing the strategies and exercising discipline. Once profitable methods are established and enough internal work has been done to actually follow through on a personal trading plan without deviation, only then does trading become a part-time job. It takes most successful traders many months, and sometimes years, to develop consistent profitability.
Personality and Life
Personality also plays a pivotal role in whether you'll be a swing trader or a day trader (or both). Some traders love to make lots of trades, even while swing trading, and may sit in front of their computer all day. Others only want to look at the markets for 10 minutes a day. In either case, set up a daily routine so that you create parameters around trading—when you will trade and when you won't—to create a balance between trading and life.
If you have a steady stream of distractions in your life, don't day trade. You need to be alert and ready because opportunities come and go in a second. Swing trade instead; there's more flexibility around when you place your orders.
Traders who are open to both day trading and swing trading get the best of both worlds. Sometimes day trading strategies are employed and at other times swing trading tactics are used. Having the best of both trading styles means more work is required. The trader must be comfortable trading on multiple time frames and must also develop a comprehensive trading plan to account for day trades and swing trades, potentially occurring at the same time.
Be Ready
Whether swing trading, day trading, or both, the bottom line is to make sure you're prepared financially, technologically, and emotionally for the endeavor. Use strategies that align with your personality and allow you to reach (eventually) the realistic goals you have for yourself and your trading.
FAQs
How much time does swing trading take?
To find and place swing trades, expect to spend at least one hour per week. This can vary though, as some people may wish to make multiple swing trades each week. This will require more screen time. For swing traders only taking a few trades each month, 30 minutes a week may be all that's required.
Is day trading safer than swing trading?
If the risk is controlled on each trade, neither style is riskier than the other. Both trading styles could limit losses on each trade to 1% of the account, or 0.5%, or 2%, for example. That said, swing traders make fewer trades than day traders. A day trader that doesn't know what they are doing could deplete an account quite quickly even while risking very little on each trade.
Can day trading make you rich?
Yes, and no. High returns are very possible from day trading, yet making money and being rich are two different skill sets. Many people make lots of money but also have high debt, poor spending habits, and are often on the brink of bankruptcy. On the other hand, people with lower incomes who spend wisely, and save/invest/trade well, could end up becoming quite wealthy.
Is swing trading profitable?
Yes, it certainly can be. Swing traders typically look for stocks or other assets on the move, participating in trades that move 15% to 100% within days, weeks, or months. Professional swing trades also limit their risk, so if a stock drops by 5%, for example, they get out. But they hold their winners for the 15%, 25%, 50% profits, for example. This is called having a favorable reward:risk, and can result in significant profits if effectively employed.
How do I learn how to swing trade?
The Complete Method Stock Swing Trading Course teaches people how to start swing trading, and catch potentially explosive trades by looking for a few common patterns that tend to occur before stocks rally. The course provides step-by-step video instruction.
If you are more interested in day trading, check out the EURUSD Day Trading Course or the Price Action Stock Trading Course.
By Cory Mitchell
Disclaimer: Nothing in this article is personal investment advice, or advice to buy or sell anything. Trading is risky and can result in substantial losses, even more than deposited if using leverage.