Forex swing traders are constantly faced with having to choose one pair over another. Maybe you find yourself contemplating a long trade in the AUD/USD and NZD/USD. Both have similar setups, but at a given time is one a better option?
Or maybe you are faced with a short EUR/USD or GBP/USD trade. Which one is more favorable? [When day trading, I only trade the EURUSD on the 1-minute chart.]
We are constantly faced with tradeoffs. If you are bullish on the USD, you could buy the USD related to any currency, and maybe that will work out. But ideally, buy the USD against a currency that is weak.
This goes for any currency. If you want to buy euros, buy the EUR against a currency that is weak. If you want to sell GBP, sell it against a currency that is strong.
Pair weak with strong in order to maximize the efficiency of a trade.
If you buy the USD because it is acting strong, and the AUD is also acting strongly, it doesn't make sense to sell AUD/USD (sell AUD and buy USD). The pair may not move much since both currencies are strong. If JPY is weak, it makes more sense to buy USD/JPY, this way you take advantage of the USD strength and JPY weakness, which will likely result in a much larger and more predictable price move.
Where to Find Strength and Weakness Data
For a quick glance at which currencies are strong or weak, I like to look at the currency indexes available on Mataf.net. Check the site for updated data.

Charts are provided as examples only. Please see Mataf.net for current information.
If you're a short-term trader swing trader, check one week of data. If your trades last several days to several weeks, a month or two of data may be most useful.
The idea is to check the data regularly, and then attempt to be long the strongest currencies against (short) the weakest.
Look for trading opportunities where one currency index is moving up while another currency index is moving down. This will create a currency pair to watch. Alternatively, it will help you narrow down which pairs you want to trade with the Price Structure swing trading method.
On the chart above, in mid-March, we could see that the AUD had been moving up, while CHF and JPY have been moving down. That indicates there may be some good trades in AUDCHF and AUDJPY while this is happening. And there was, as the pair rose strongly in a rising trend channel.
The following are TradingView charts.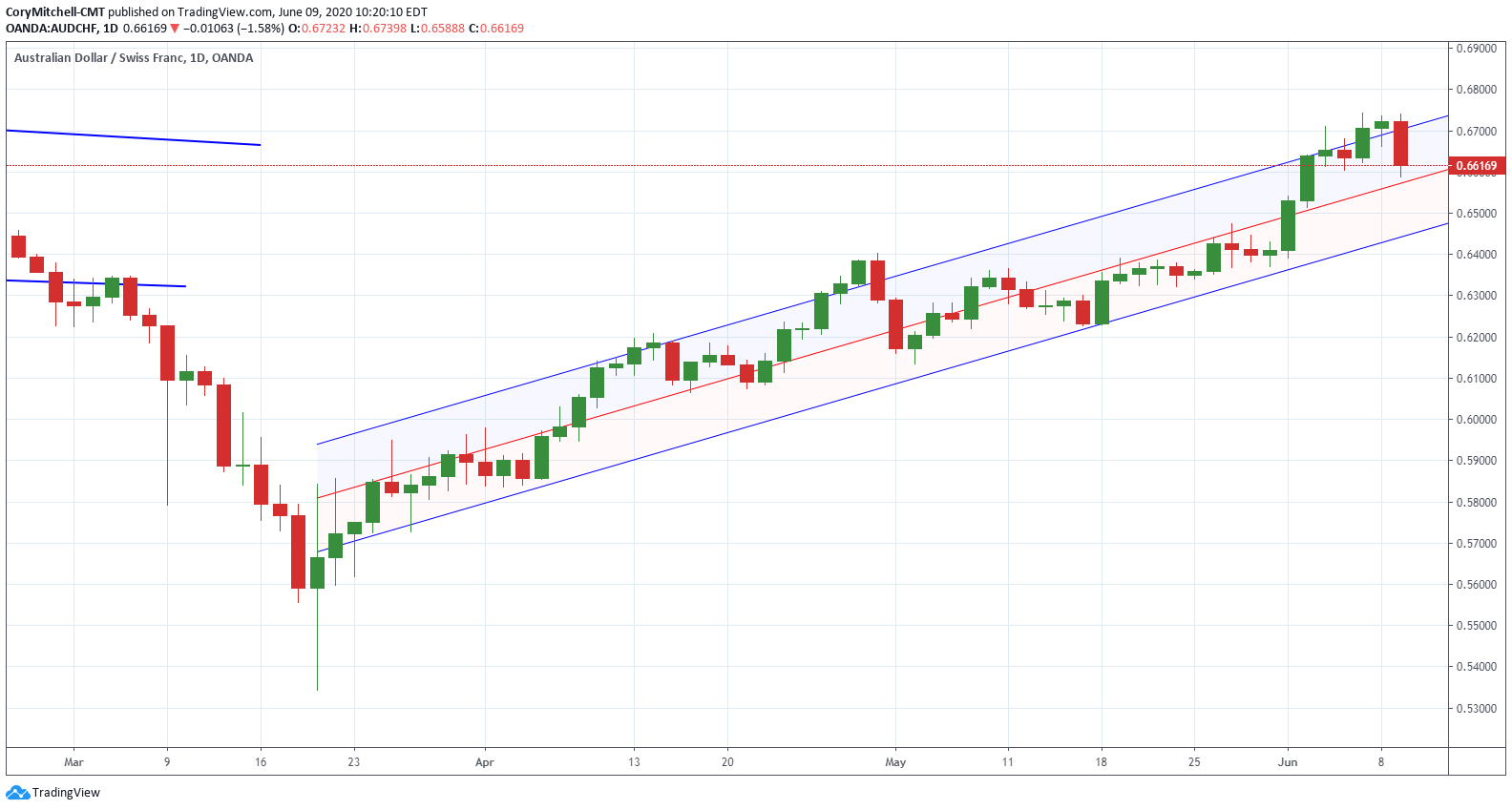 Mataf provides currency indexes on EUR, USD, GBP, CHF, JPY, CAD, AUD, and NZD. The index is an average of the movement of the currency against the other currencies. Note that most of the currency indexes on TradingView (the charts I use) are not based on movements against a baskets of currencies…some are only compared to the USD or a tiny basket of currencies. I like the indexes on Mataf because each currency is compared to all the other currencies listed above.
A comparison chart like this is not static. It's constantly changing as currencies get stronger and weaker. Our job as traders is to attempt to be long the stronger ones and short and weaker ones. We don't need to do this. It is just an option if it appeals to you.
Let's look at another example, more short-term in nature.
This chart looks at the last few days of price action. But notice how the chart shows that AUD and CAD starting pushing higher as the CHF and JPY dropped. That alerts to some trade possibilities, potentially buying AUD/CHF or CAD/JPY, for example.
And we can see how this played out in the AUDJPY. Nice strong uptrend, until we start to AUD start to fall off on the right side of the chart.
More recently on the currency index chart, we can see that the CAD is falling the last couple days, and the GBP has been stronger.
Nice uptrend in the GBP/CAD, and a recent consolidation.
This may seem "coincident" like they are just happening together. And they are! But the point is the currency index chart and can help you zero in on where to look for trades, and see which pairs are trending.
Focus on the currencies making the biggest moves, and leave the rest. If something is flat, better to leave it alone.
See Which Pairs are Most Affected
Indexes are a basket of currencies, so while they generally do a good job of telling us which currencies are strong and weak, and therefore, what pairs to trade, they may sometimes miss something. For example, maybe the CAD index is really strong, and the JPY index is really weak.
Indexes are based on averages against multiple currencies. It is possible that the JPY could be strong against CAD but weak against everything else, similarly, CAD could be weak against JPY but strong against everything else. So the indexes still show CAD up and JPY down, but CAD/JPY could actually be moving down instead of up. This is the opposite of what we would expect based on the indexes.
Several websites have currency strength tools that show how specific pairs have performed over various time frames.
This provides a quick way to see which currency pairs are up or down the most over the time frame selected.
TradingView provides an intraday heatmap (Markets>Currencies>Heat Map. This is good for day traders looking to see what is on the move. But it only shows intraday data, limiting its usefulness for longer-term traders.
I like the organization of BarChart's intraday forex heat map.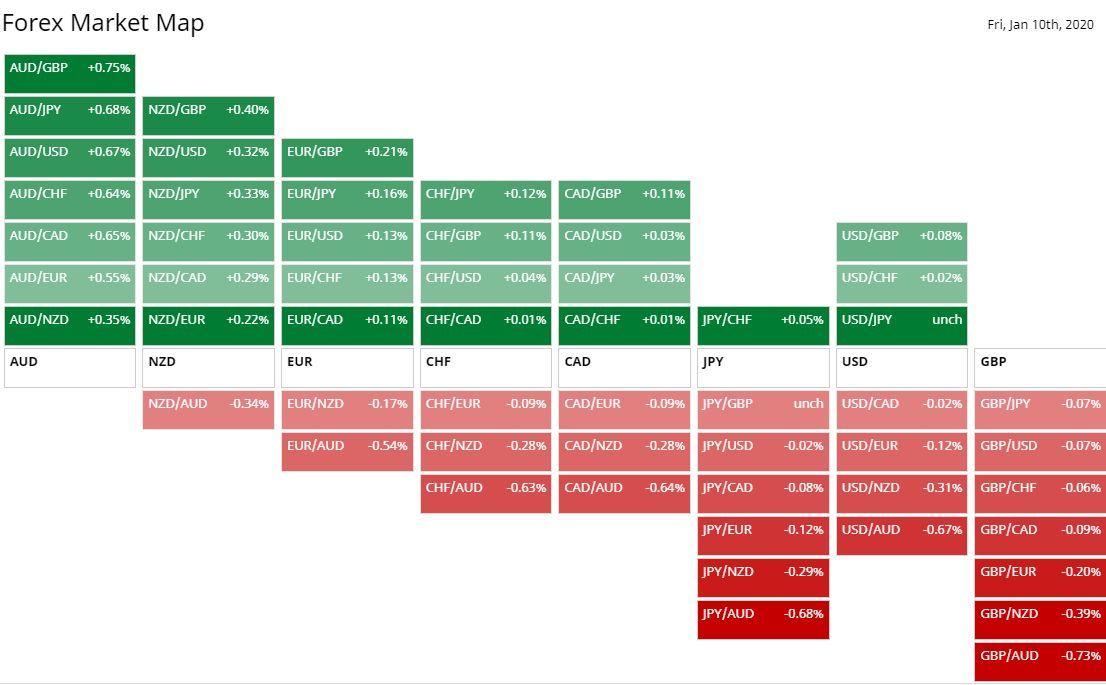 MyFXBook provides a heatmap with customizable time frames. It covers most commonly traded pairs.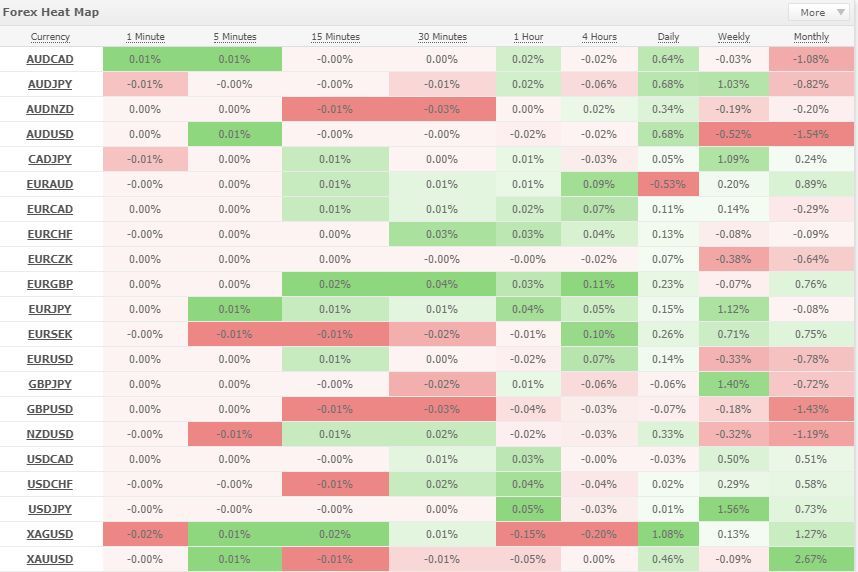 Final Word
Look to the indexes and heatmaps to help zero in on pairs that are likely to move with vigor. The currency indexes are a great reference and starting point. The heatmaps may help zero in on specific pairs.
For pairs with strong trends and big price moves, consider using Renko charts to capture big profits.
Going through this process is definitely not a requirement. There are many ways to trade. But if is an option to include in your trading plan if you find helpful.
Want to learn how to trade like this? Check out the EURUSD Day Trading Course. It covers strategies for crushing the EURUSD in two hours or less, as well as mental game work and exercise to get in the profit-making zone and stay there.
By Cory Mitchell, CMT.
Disclaimer: Nothing in this article is personal investment advice, or advice to buy or sell anything. Trading is risky and can result in substantial losses, even more than deposited if using leverage.