Drawing trendlines can be subjective, so we need to draw them based on logical and repeatable guidelines in order for them to provide proper analysis, and not random noise or poor trades.
Using trendlines isn't a science. Everyone will likely draw them differently based on how they trade and what time frame they are looking at. Even a slight difference in the angle of the trendline can result in missing a trade or entering too early.

Even though drawing trendlines may not be an exact science, when using them, we should try to base them on logic as much as possible, otherwise, our trendlines will be random and produce random trades. 
Implement guidelines on how you will draw them. I do trade based on trendlines sometimes (although I use price action trade triggers for my exact entries), and often my losing trades are a result of having drawn a trendline improperly or failing to realize the price structure had changed (trendline no longer relevant) and not accounting for that.

If our trades are random, then it is very hard to improve our trading, because the input we are using is random and problematic. We may take a "perfect" trade based on our trendline, but if our trendline was based on a false premise or wishful thinking—instead of how the market is actually moving—then we will have more losing trades.
Ask yourself, "Are my trendlines logical? Is the market showing a tendency that I am highlighting? Am I highlighting a trend or pattern? Have I segmented the price action and am I focusing on the correct structure(s) for my time frame?"
The answer to all these questions should be YES! In this article, I will explain what all those things above mean.
The same concepts apply to any timeframe or market. As discussed in the regression channel article, we may have a large descending channel/downtrend, but within it we have smaller uptrends and downtrends. All are relevant, and great trades may occur when two of these channels intersect.
Common Trendline Mistakes, and How to Fix Them
Many people connect a couple highs or lows and extend the line off to the right, and then hope that the price will magically bounce off the line in the future for a huge trade.
As discussed above, we need to ask ourselves what price structure that trendline was based on, and is that structure still relevant? This can still be subjective. We may not always agree, but the point is to improve on how YOU see the market, and make sure that you are drawing trendlines that make logical sense to you.
The EURUSD chart below shows several blue trendlines based on the price structures and trend analysis.
There is also a red trend line on the chart, which is a common mistake people make. The price action near where the red trendline started has no resemblance to the price action once the blue lines start. The red line was useful on the left of the chart; it marked the start of the uptrend. But that trendline became obsolete once the price drastically accelerated to the upside and didn't pull back to the trendline.

There is little evidence to suggest that the price will respect the red trendline when the price comes back to it. Taking a trade at this level would be random. Trading performance based on randomness is very hard to improve upon.
While this is just one example, hopefully, it shows how price structures change and we have to adapt to them. We can't assume that because a trendline worked for a little while it will work again in the future if the price has shown a totally different tendency in the meantime.
The blue lines show more recent tendencies. You can see the price is swinging within the lines, and the blue lines encompass most of the highs and low points…until they don't. When the line no longer connects most of the highs and lows, then the line is obsolete.
The goal is not trendline perfection, because it is subjective any time we manually draw something. The goal is improvement. To start seeing the tendency in price, and capitalize more effectively on those tendencies.
Now, just because we can a draw trendline doesn't mean we actually want to base trades on it.
Tips for Trading Based on Trendlines and How to Draw Them
We can draw trendlines anywhere we want to on a chart, if they help us understand the price action better.
The problem I see is that most people randomly connect high and low points, but they have not bothered to check if that approach works for producing quality trade ideas. Connect random points and you will get random results.
If you are going to use trendlines for trades, you need to treat them like a strategy. And a strategy has parameters. If you have precise entries for a trendline strategy, but you haven't precisely defined how those trendlines are drawn, then your strategy has a major hole in it, and you'll probably be frustrated by the results it provides.
For different strategies, I may use trendlines in different ways. But the point is they are helping me make better trading decisions because I have rules for how I draw those trendlines.
This video describes how I use trendlines for stock swing trades on the daily chart.
For stock swing trades (daily chart) my rules are:
Use a line of best-fit connecting three lows, then extend out to right. As other lows form, adjust to make it a line of best for all of them.


The trendline doesn't need to match exact highs or lows. It is meant to highlight the area of a trade, not an exact entry point. As long as the trendline is close to the lows (upward trendline) that is good enough to show me an area.


Don't connect lows where there hasn't been a new swing high in between (for uptrend). There must be a higher swing high between low points I am using in the trendline.


If the price drops below a prior low used for the trendline (after making a higher swing high) that trendline is invalidated/untradable. For example, the price is moving in a trend channel, makes a new high, and then drops below a prior swing low (in price) in the channel the trendline is invalidated because uptrends make higher swing highs and higher swing lows.


Can enter trades on the fourth touch point or after, assuming no rules are violated prior to entry.


Can use log or linear charts.
Your rules might be different. That's ok. But at least have some.
If you added a MACD indicator to your chart, you would likely come up with rules for how you will use it. Because coming up with rules is how we define our strategy, and then we can determine if that strategy makes money or not. Drawing a trendline is no different. If it is on our chart, it should have a clearly defined purpose and method as part of our strategy.
What you put on your chart affects how you see the market, your judgment, and potentially how or why you place trades. Therefore, anything that goes on your chart should have rigorous rules for how it is used and applied.
The above is just one example of how to trade based on trendlines. You could potentially create many different strategies using trendlines.
Trends Do Exist that Don't Fit a Trendline
We don't need a trendline to fit a trend, and we shouldn't force it if it doesn't.
A trend is a series of higher highs and higher lows, as discussed in How to Spot Trends and Reversals Using Price Action.
Because price waves can be different sizes, and last different amounts of time, a trendline won't always work for highlighting the trends which include these various price waves.
In such cases, we either need to develop strategies that capitalize on trends but that don't use trendlines, or only take trades when the price does align with a trendline.
I take trades based on trendlines (when applicable) and also make trades based on trends (no trendlines).
Here's another example of trendlines that worked for a time but then became obsolete.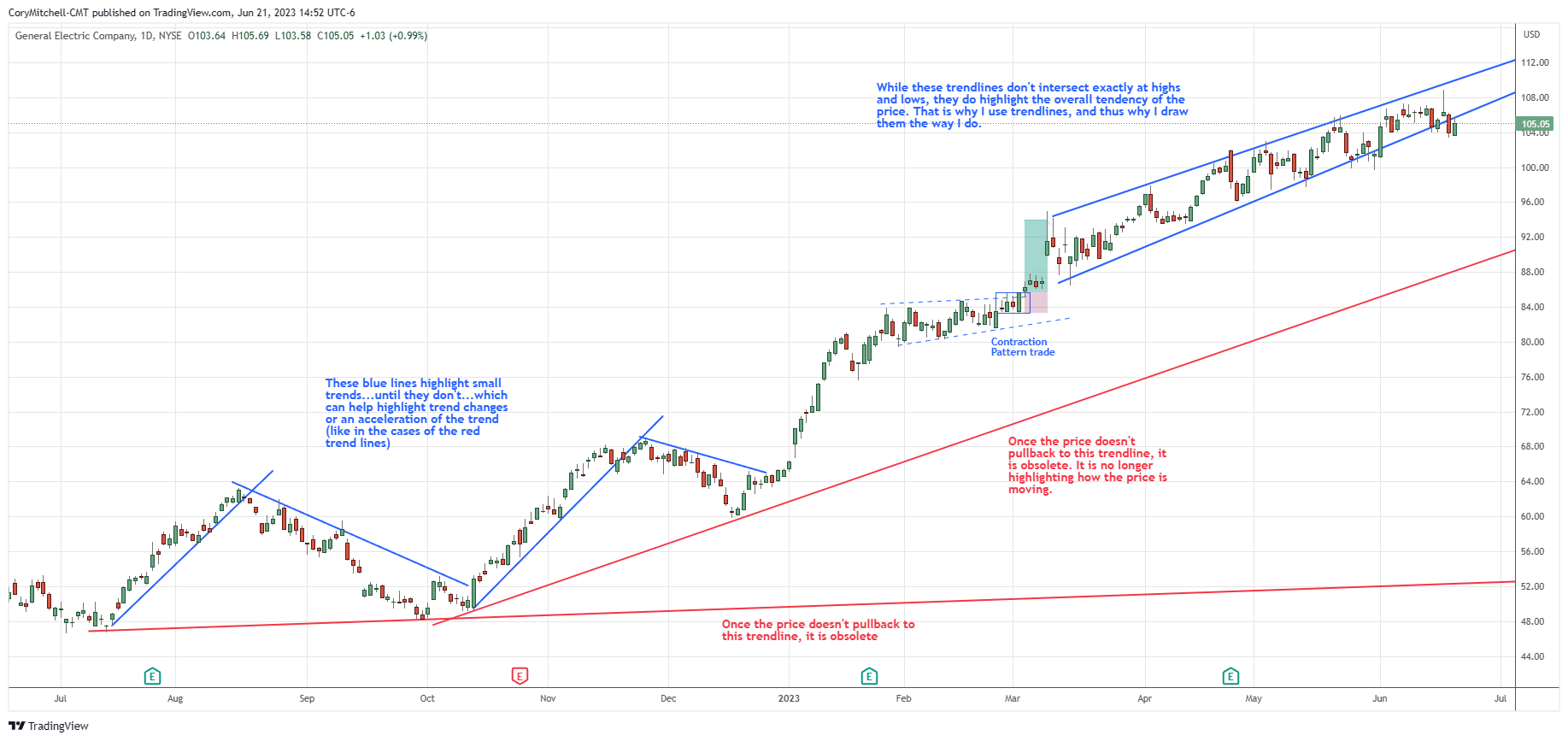 Got questions about trendlines? Ask them in the comments and I will expand the article to cover those questions.
By Cory Mitchell, CMT
Disclaimer: Nothing in this article is personal investment advice, or advice to buy or sell anything. Trading is risky and can result in substantial losses, even more than deposited if using leverage.