There were 7 trading days between April 1 and 9, but two days were major holidays for the US and UK. I didn't trade those days—and don't typically recommend trading on major holidays—so these results are based on April 1, and then April 6 to 9.
There did end being a fair bit of movement on the holidays (April 2 in US and April 5 in UK). I didn't see anything worth trading on the US holiday, but on the UK holiday there was a Double Pump entry shortly after 7 am (on my chart time frame, which is MST, and then a couple of snapback entries after 8am my time. There was profit potential there, but I have not included those trades (or even marked them) because it was a major holiday. If some profit was grabbed on those days, that is bonus profit over and above the 18.36R potential for the week.
I trade on a 1-minute chart and use the strategies discussed in this review. The week's charts with the trades are below.
Totals for this week:
Potential Profit was +18.36R for the week. This is if all the valid trades were taken, and no invalid trades were taken.

"R" is a standardized risk amount. It could be 1% of the account, 0.5% of the account, or any amount you choose based on your position sizing method.
In other words, if risking 1% of the account per trade, the potential profit from these strategies this week was 18.36%, trading about 2 hours per day.

I recorded my day trading session on Feb. 11 and Feb. 17 if you want to watch me trade and talk through the process.


9 wins / 14 trades = 64% win rate if the strategy rules were followed. That is higher than usual.


Reward to Risk (based on all potential trades):

Winners: 2.3, 2.5, 2.87, 2.62, 2.5, 2.51, 2.57, 2.58, 2.5
= 22.95 / 9 = 2.55
Losers: 0.94, 1.1, 0.4, 1.05, 1.3
= 4.79 / 5 = 0.958
2.55 / 0.958 =2.66 :1

Missed trades cost me 2.5R this week.


Other mistakes cost me 0.9R.


Typical leverage is about 30:1. Ranging from 20:1 to 50:1, depending on the stop loss distance in pips.
A lot of these stats you can track in the free and downloadable forex day trading log (Excel spreadsheet).
EURUSD Day Trading Strategy Totals
These are optimal results for the strategies, including trades I missed and excluding trades I shouldn't have been in. This is so I can ascertain over time which strategies are working the best and producing the most profit potential.
Rounded Tops and Bottoms strategy profit: +5.36
(Daily totals: 0.46, 2.5, -0.4, -1.05, 3.85)


Snap Back strategy profit: +5.12
(5.12)


Double Pump strategy profit: +7.88
(2.87, 2.51, 2.5)


Double Pump Variation strategy profit: 0R
(0)


Triple Pump: 0R
(0)
Daily Charts and Trades
Charting provided by TradingView.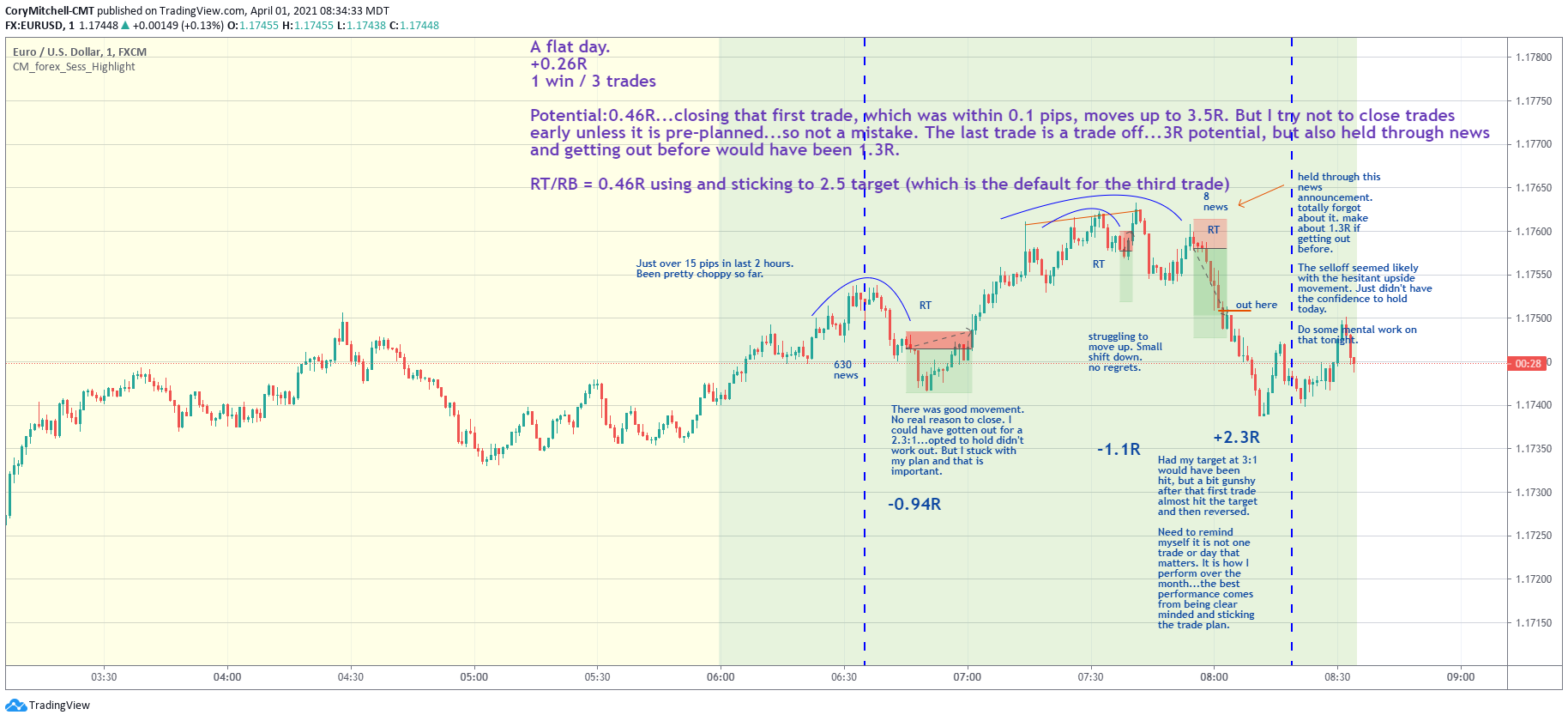 My Focus For the Upcoming Week
For the last couple of weeks, I have been saying I need to take a couple of hours and go over all my charts for the last few months. I still haven't done it. So I will do it on Tuesday afternoon after I am done trading.

With daily and weekly reviews we sometimes still have thoughts from those recent trading days that may bias us. It is good to look back once we have no fresh memories and see if we notice any common mistakes, missed trades, or things we did really well, that we didn't notice at the time.
I will have a EURUSD day trading course out by June, but in the meantime, learn the basics of trading the forex market with the Forex Trading Introduction Course.
By Cory Mitchell, CMT
Disclaimer: Nothing in this article is personal investment advice, or advice to buy or sell anything. Trading is risky and can result in substantial losses, even more than deposited if using leverage.