The EURUSD day trading strategies produced a potential profit of +15.14R this past week ("R" is described below). The strategies used, and their statistics for the week, are outlined below. The strategies have rules, but trades are discretionary or subject to interpretation. The goal is to reach the profit potential (or possibly exceed it), but actual results will typically be lower especially when learning.
The profit potential is based on trading a 2-hour window between approximately 8 and 10 AM EST.
I trade on a 1-minute chart and use the strategies discussed in this review. The week's charts with the trades are below.
Get all the details on how to trade like this in the EURUSD Day Trading Course.
Totals for this week:
Potential Profit was +15.14 for the week. This is if all the valid trades were taken, and no invalid trades were taken.

"R" is a standardized risk amount. It could be 1% of the account, 0.5% of the account, or any amount you choose based on your position sizing method.
In other words, if risking 1% of the account per trade, the potential profit from these strategies this week was 15.14% (less commissions), trading about 2 hours per day.
There was an additional 5.74R available for Broken Break (BB) trades. This is a strategy I am still working on that has been adding on some great profits. I note the weekly profits, but am not yet including them in the weekly totals since it has not been included in the EURUSD Day Trading Course yet.


4 out of my 5 session during this week were about 1.5 hours or shorter. Typically they are 2 hours. That could have something to with the lower than usual profit potential. That said, still a good week.


I recorded my day trading session on Feb. 11 and Feb. 17 if you want to watch me trade and talk through the process.


9 wins / 11 trades = 81% win rate if the strategy rules were followed. This is higher than usual. Likely due to fewer trades this week, and I exited a number early due to news or other patterns forming. So reward:risk (below) is lower than usual.


Reward to Risk (based on all potential trades):

Winners: 2.5, 2.5, 2.47, 2.5, 2.55, 1.1, 1.98, 0.59, 0.85 = 17.04 / 9 = 1.893
Losers: 1, 0.9 = 1.9 / 2 = 0.95
1.893 / 0.95 = 1.99:1
My actual R:R was a little higher, because I held onto some winners for bigger gains, but only counted them as 2.5R for these stats.

Broken Break trades added more than 5R to the weekly total profit, bringing it above 20R.


Typical leverage is about 30:1. Ranging from 20:1 to 50:1, depending on the stop loss distance in pips.
A lot of these stats you can track in the free and downloadable forex day trading log (Excel spreadsheet).
EURUSD Day Trading Strategy Totals
These are optimal results for the strategies, including trades I missed and excluding trades I shouldn't have been in. This is so I can ascertain over time which strategies are working the best and producing the most profit potential.
Rounded Tops and Bottoms strategy profit: +13.19R
(Daily totals: 6.47, 2.5, 2.55, 1.08, 0.59 )


Snap Back strategy profit: 0R
()


Double Pump strategy profit: +0.85R
(0, 0, 0, 0, 0.85)


Double Pump Variation strategy profit: +1.1R
(0, 0, 0, 1.1, 0)


Squeeze Play (SP): 0R
(0)


Triple Pump: 0R
(0)
Daily Charts and Trades
Charting provided by TradingView.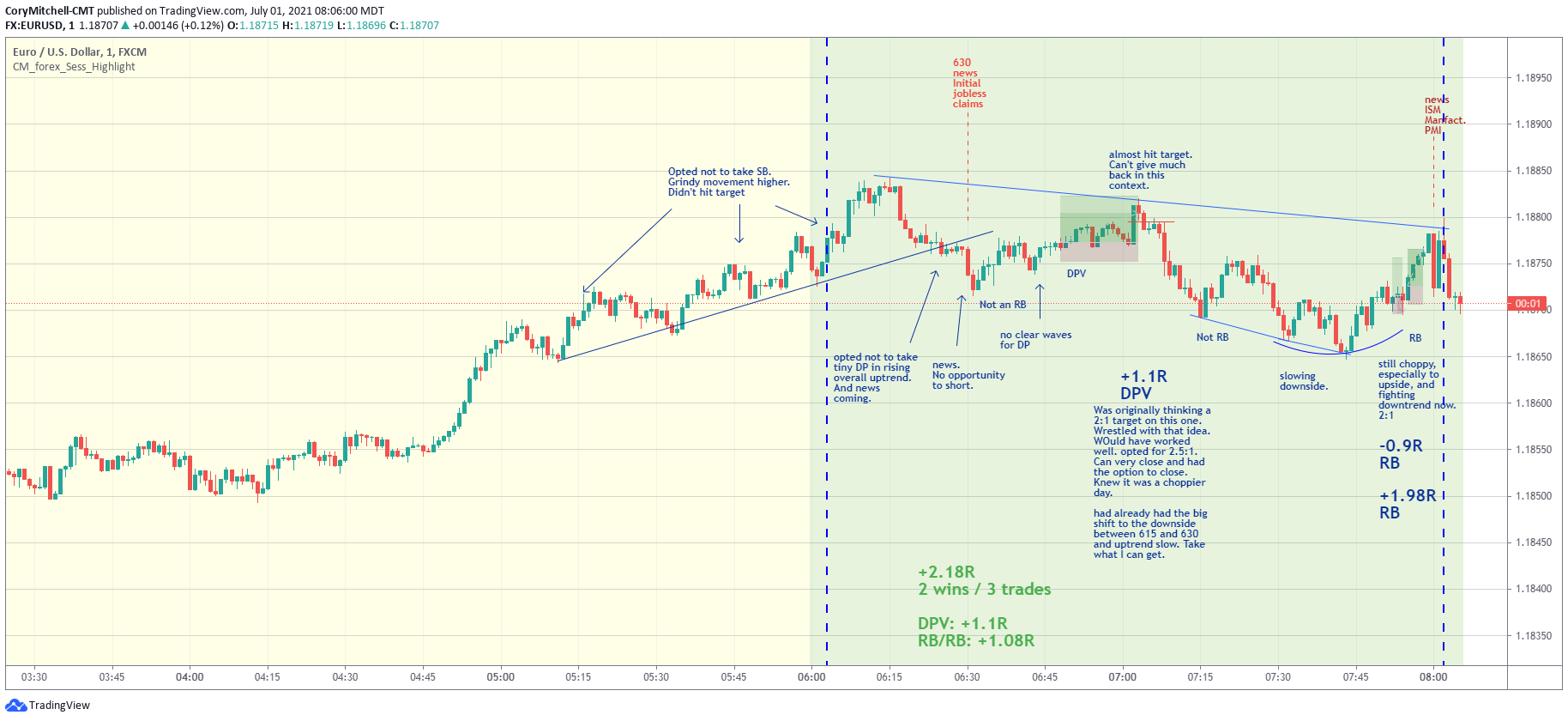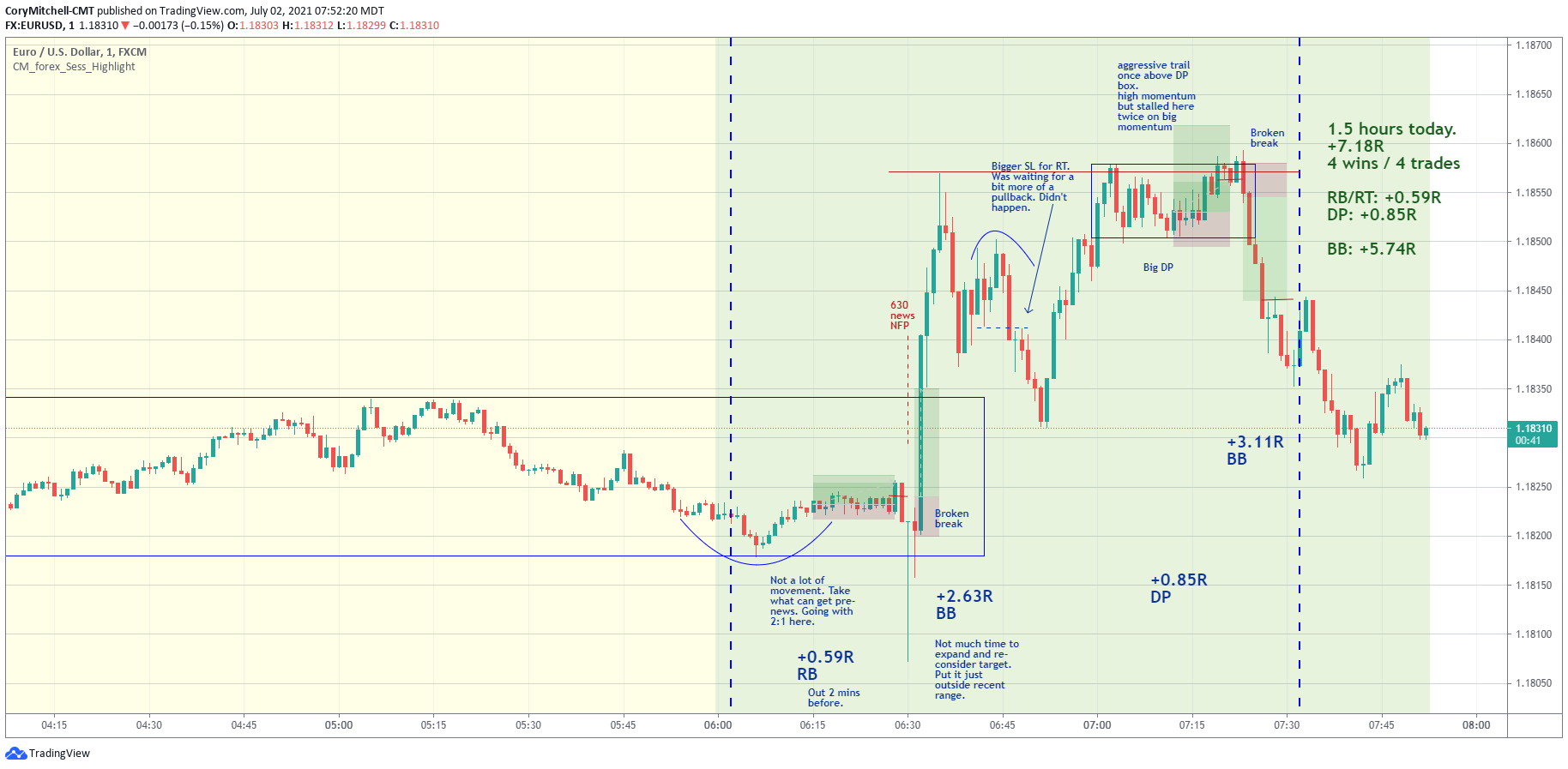 My Focus For the Upcoming Week
"Focus" is my focus this week is the same as last week. It is an issue that pops up many days, for at least part of my trading time. My objective this week is to notice when I am distracted and bring attention back to commentating the price action. EVEN WHEN I DON'T TO! If I feel a compulsion to do something else, I will remind myself all other tasks can wait until I am done trading for the day (it's not that long!).
I will also meditate for 20 minutes each day (since I didn't do this last week), for the next five days, focusing on one thought and bringing my mind back to it over and over and again (like what we do in trading). This will help with building up that "focus-muscle" again. It tends to lapse now and again, especially when I get a little lax with my routines.
Here are the prior totals (monthly). Actual charts are in the weekly articles listed within the monthly-total articles:
January: +63R potential
February: +78R potential
March: +76R potential
April: +76R potential
May: +94R potential
June: Will be published very soon
Want to learn how to trade like this? Check out the EURUSD Day Trading Course. It covers strategies for crushing the EURUSD in two hours or less, as well as mental game work and exercise to get in the profit-making zone and stay there.