A good week for EURUSD day trading. There was lots of opportunity during the 2 hour window that I trade (approximately 8:30 to 10:30 AM EST). I trade on a 1-minute chart and use the strategies discussed in this review. The week's charts with the trades are below.
Totals for this week:
+18.06R


"R" is a standardized risk amount. It could be 1% of the account, 0.5% of the account, or any amount you choose based on your position sizing method.

9 wins /16 trades = 56% win rate


Potential was +27.56R. In other words, my mistakes cost me about 7R this week.


65% efficiency (18/ 27.56)


Reward to Risk (based on all potential trades):

Winners: 2.5, 2.5, 2.5, 2.46, 2.5, 3.36, 2.25, 2.47, 2.73, 2.5, 2.5, 2.04, 0.05
= 30.36/ 13 = 2.335
Losers: 1, 1.12, 0.98, 0.13, 1.2
= 4.43/ 5 = 0.886
2.335 / 0.886= 2.635

Trades not taken: 10R.


Trades taken that shouldn't have been: 0.87R
A lot of these stats you can track in the free and downloadable forex day trading log (Excel spreadsheet).
Strategy Totals
These are optimal results for the strategies, including trades I missed and excluding trades I shouldn't have been in. This is so I can ascertain over time which strategies are working the best and producing the most profit potential.
Rounded Tops and Bottoms strategy profit: +11.57R
(-1, 2.5, 2.5, -1.12, -0.98, 2.5, 2.5, 0.05, 2.5, 3.36, -1.2, 2.46)


Snap Back strategy profit: +2.04R


Double Pumps strategy profit: +10.07R
(2.47, 2.73, 2.5, 2.5, -0.13)


Double Pump Variation strategy profit: 2.25R

No squeeze plays or triple pumps this week, both of which are quite rare.
Daily Charts and Trades
Charting provided by TradingView.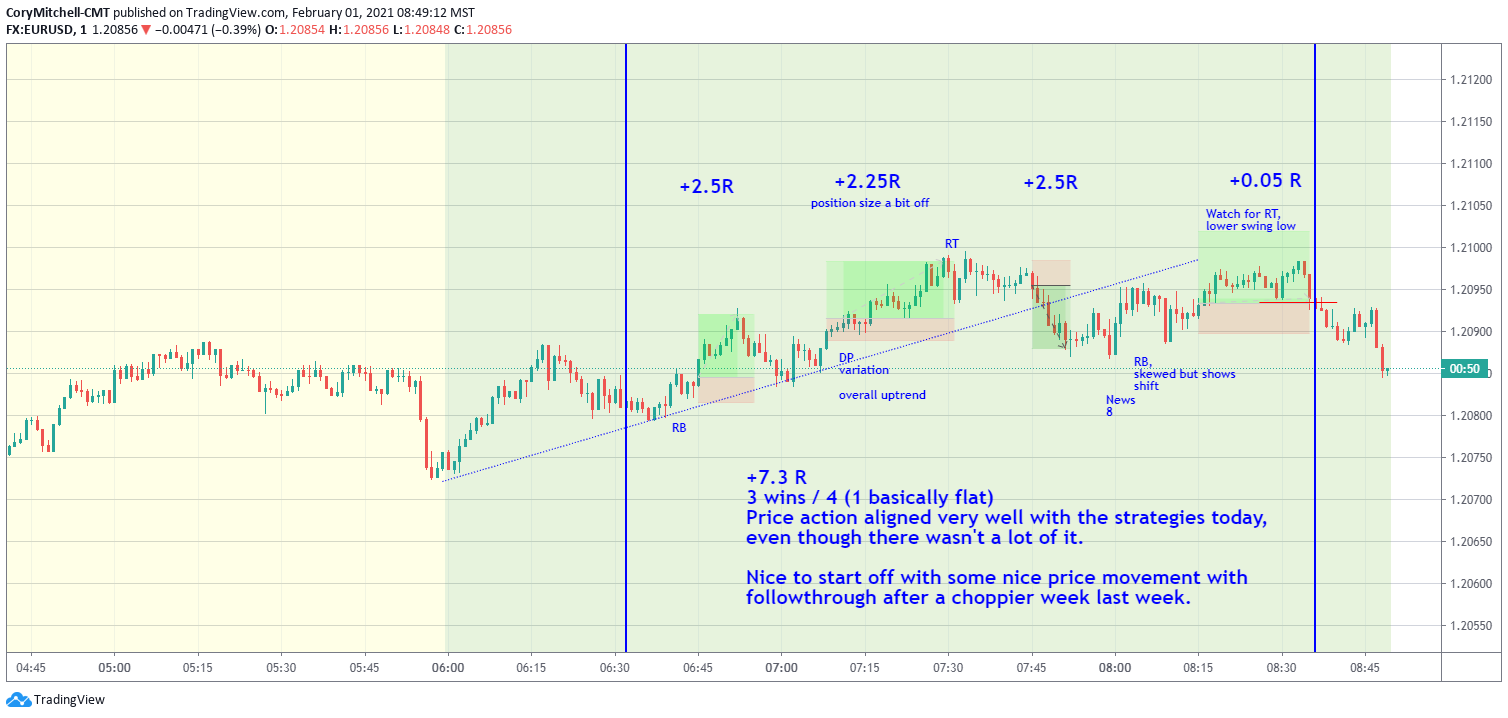 My Focus for the Upcoming Week
I had launched the Complete Method Stock Swing Trading Course the prior week, so this week I felt a lot less distracted with that work being fishined.
This week saw my old memisis the 'missed trade' return. Missed trades cost me about 10R this week. I made some pretty long notes on my chart on Friday, because I noticed almost a sense of laziness when it comes to skipping trades. I will often agree with a reason for not taking a trade without further probing. I need to go through my full assessment of a trade before deciding not to take it. I will need to write my thoughts down on this and see why it keeps popping up.
This week had a lot of profit potential, while the prior week did not. But that's why I just keep doing what I am doing. The strategies work well, even though market condtions aren't ideal all the time. Even with some days and weeks, January produced more than +63R in profit potential.
By Cory Mitchell, CMT
I will have a new EURUSD day trading course out by June, but in the meantime, learn the basics of trading the forex market with the Forex Trading Introduction Course.