Here are some of the best free tools available to traders for financial information, charts, scanning, correlation, volatility, interest rate probabilities, and more.
These sites and tools are free to use, but may have a paid option for enhanced metrics or no ads. These sites provide data, allowing you to draw your own conclusions. Opinion sites are not included.
If there are additional sites you believe should be included, that are available for free, leave a comment below the article.
Free Forex Trading Tools – Mataf
Mataf.net provides forex tools…ones I refer to regularly.
Under their Forex>Trading Tools I mainly look at Forex Volatility, Forex Correlation, and the Currency Index.
In order, these provide me with how much given pairs are moving over various time frames, how forex pairs are moving relative to each other, and which currencies are strongest and weakest.
This is all useful information for forex day traders and swing traders.
They also provide a handy currency converter.
Free Investing and Economic Information – Multpl
Multpl.com provides stock market, housing, and other types of data. It's mainly known for being the home of the Shiller PE Ratio, which is an inflation-adjusted barometer of how expensive or cheap the US stock market is. Robert Shiller is the author of Irrational Exuberance.
Under the "more" tab there are historical charts and statistics on a wide range of topics, including the US stock market, housing, treasury rates, income, and world statistics.
Free Charting, Scanning, and Economic Calander Tools – Investing.com
Investing.com has a bunch of tools…some better than others. Their stock scanner is mediocre (compared to Finviz below) but the one advantage is that you can search pretty much any stock market in the world.
Their charts are quite good, as they are provided by TradingView (featured below). And if you want to keep your costs down, Investing.com provides most of the advanced features that you need to pay for with TradingView. You just need to set up a free Investing.com account.
This free option may work for some people. There are some drawbacks though, such as limited data feeds and/or delayed data with few options for upgrading (need to go to TradingView directly). For example, they provide real-time stock data but only from BATS, which means the charts are missing transactions from NYSE, Nasdaq, and other market venues.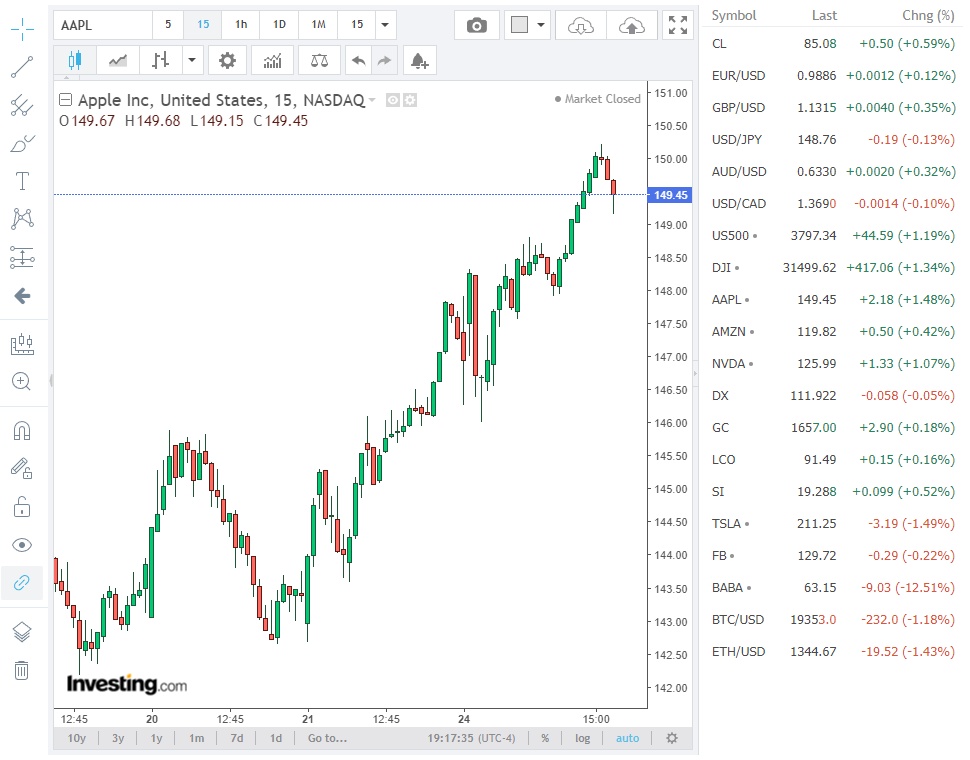 I use their economic calendar every day for seeing the events of the day when day trading stocks, forex, or futures. It's customizable and you can save your settings if you have a free account.
Free Stock, Futures, and Forex Charting Platform – TradingView
I use TradingView charts every day for swing trading and day trading. While brokers do provide free charting, I find the TradingView charts must easier to look at, write on, analyze, and screenshot.
You can get free charts, with ads. Or you can upgrade to go ad-free and get live quotes.
Free Stock Scanning – Finviz
Finviz.com is one of my favorite scanners. It offers incredible scanning power…for free! It is one of my go-to scanners for finding chart patterns or isolating swing trades. The visual nature of the platform makes it easy to scan through loads of stocks very quickly.

Free Stock Scanning – ChartMill
Chartmill is another quality stock scanner. It provides limited scanning for free each month. If you only scan a few times a month, the free allocation of credits should be enough. They also have a great trade ideas section with scans that are already set up.
Free Interest Rate Tools
The FedWatch tool provided by CME Group shows probability assessments for upcoming interest rate changes. The probability is based on how Fed Funds futures are trading; essentially what the market is pricing in. You can look at interest rate expectations more than a year out.
CME also offers a Bank of England Watch tool, providing probabilities for BOE interest rate changes.
There is also an interest rate tool for Australian interest rates. It's not as elaborate as the FedWatch tool. It provides probabilities for the next interest rate decision only.
If you know of the interest rate tools like this for other countries/zones, share them in the comments.
Free Commitment of Traders (COT) Data
The Commitment of Trades (COT) report is published weekly (for the prior week) by the Commodity Futures Trading Commission (CFTC). It shows how different entities are positioned in the various futures contracts. Some traders use it to gain insight into whether a trend will likely persist or is near a turning point.
There are many sources that provide COT data, including directly from the CFTC. The raw reports aren't that easy to digest. Most people prefer to see the data in chart format to monitor how values change over time along with the price of the futures contract.
I like the COT charts at BarChart.com. They also provide a little tutorial on what it all means.
Free Global Economic Data – Trading Economics
If I need an economic statistic, for any country in the world, I go to TradingEcomomics.com.
It is truly incredible, with data going back 50 years for many countries and statistics.
Click on Markets, Indicators, or Countries to get started with researching historical economic statistics.
Free Hedge Fund Activity Tool – Holdings Channel
Hedge funds and mutual funds need to report what they buy and sell each quarter. This data is publicly available.
HoldingsChannel.com breaks the data down into a few simple lists. You can look at the stocks that are most bought, most sold, or you can see what an individual money manager is buying/selling.
Registration is free to view the full site, otherwise browsing is limited to 6 pages per six hours.
Free Statistical Analysis of Chart Patterns – ThePatternSite
Thomas Bulkowski's site is loaded with interesting statistics on chart patterns. Although, the site itself is quite ugly. Try not to let that distract you from the content.
Bulkowski is the author of the Encyclopedia of Chart Patterns.
ThePatternSite.com covers hundreds of patterns that have been statistically analyzed.
I wouldn't rely on the statistics to trade myself. But if you're looking for strategy ideas, top-performing patterns are a place to start. Develop your own rules for trading them.
The Ranks page provides several different ranking measures for seeing which patterns perform well under various conditions. If links to the pattern are not provided in the list, you can find the pattern, its writeup, and statistics on the Chart Patterns page.
Free Stock Sector Analysis Tools
There are a number of sector analysis tools. Sector analysis tools show how various sectors are performing over different time frames. This can help traders see which types of stocks are on the move and where they may want to focus their attention.
The Finviz Groups Tool is simple but provides the relevant data. I also like that if you click on a sector it pulls up a list of all the stocks in that sector. You can then sort that list by performance to very quickly see the best and worst-performing stocks in that sector. You can also sort by industry instead of sector to really zero-in on which stocks are performing best/worst.
The SPDR Sector Tracker is quite robust as well, showing performance over many time frames. You can view the data as a heatmap, chart, or table. Click on a sector (ETF) to see the stocks in it.
Free Stock Correlation Tool
Correlation is how much one asset moves with another. If one goes up and the other goes up at the same time, and they both go down at the same time, those assets are highly correlated.
Correlation is important because if two assets have a very high correlation over an extended period time, then buying both of them is redundant. Putting the full position size into both is doubling your risk (and reward if you win) because the two assets move the same.
The SectorSPDR Correlation Tracker allows you to see which ETF your stock holdings are correlated to. It also shows the correlation between stocks or ETFs of your choosing.
Correlation is also important for "pairs trading." This is a trading strategy that seeks to profit when highly correlated assets diverge.
If you have the Elite version of Finviz, any stock you look up will also have several stocks that are correlated to it listed below or above the chart. This way, you may be able to find a stock that moves similarly but that provides a better reward/risk, smaller stop loss, less/more volatile, etc.
Free Trading Statistics Software
If you trade forex, it's easy to track all your trades and statistics. MyFXbook provides instructions on how to link up your account to their software. Your trades and statistics are automatically calculated. You can keep them private or share them publicly to potentially attract investors/followers if you wish. They don't have access to your account; the software just has access to your trade history.
Statistics included growth and performance charts (above), win rate, risk/reward, best trade, worst trade, average trade length, profit factor, expectancy, and more.
Click Portfolio, and set up a free MyFXBook account to get started.
MyFXBook also provides statistics on broker spreads and swaps, which can help you narrow down your search for a forex broker.
There is similar software out there for stocks. I have tried many and had issues with all of them. So for now statistics are manually tracked in a Swing Trading Log and/or via screenshots of trades so I can review them.
If you prefer tracking your forex day trades manually, here is a forex day trading log (excel) for that.
Free Historical Market Charts – MacroTrends
TradingView has a lot of historical stock market and economic data which can be charted.
MacroTrends fills in the gaps, providing historic stocks in certain contexts, such as stock performance under various presidents.
They have over 200,000 charts covering various markets.
Free Stock and Currency Lists
TradeThatSwing provides a number of lists that are updated regularly.
These lists are based on specific criteria, and you can do what you want with them.
Best Day Trading Stocks – Lists the highest volume and largest moving stocks, in terms of $ and % for US and Canadian markets. Updated weekly.
Best Swing Trading Stocks – Lists the strongest and weakest stocks relative to the S&P 500. Updated once to twice a month.
Strongest and Weakest Forex Pairs – Lists the strongest and weakest currency pairs and emerging trends. This can aid with finding forex swing trades. Updated weekly.
What's Your Favorite Trading or Investing Data Source or Tool?
If you have other tools that you use and enjoy, mention them in the comments below.
Avoid mentioning news or opinion sites.