These are some of my favorite books for learning how to swing trade stocks. These books cover strategies as well as the mental aspects of trading.
I have included my top picks, as well as additional books if you want to further your study.
Best Swing Trading Strategy Books
Let's start off with some strategy books. These books provide ideas on when to enter and exit trades, as well as how to manage risk.

This book contains loads of information and is a great starting point for any trader. It doesn't cover basic things like order types, but it does provide strategies, risk management, and market analysis methods. It covers the cup-and-handle pattern as well as a few others.

If someone is new to trading or investing, this is the book I tell them to read. It has a heavy focus on trading stocks that are already strong and are still acting strong. The idea is that it's easier to buy something that's already going up to make money, as opposed to trying to pick a bottom in something that is falling.
O'Neil is the founder of Investors Business Daily (IBD), a site that discusses his methods.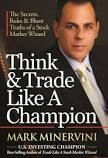 Mark built his own trading system based on the concepts taught by William O'Neil (book above). Therefore, there's some overlap in concepts between these books and How to Make Money in Stocks, but there is also lots of additional content and ways of doing things. These books are highly focused on what chart patterns to look for, how to find them, entry methods, risk management, and when to trade as well as when NOT to.

These books also touch more on the mental aspects of trading and doing what it takes to succeed.
A great guide for trading stocks. Looks at when to buy and when to sell, and when not to buy. Also, looks at taking short positions.
I like how Stan breaks the markets down into phases, along with some simple technical tools to help you determine what phase a stock is in.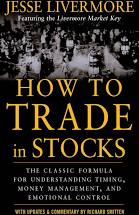 Jesse Livermore is an almost unbelievable figure. He made incredible sums of money, but also suffered massive losses, and in the end, committed suicide. Books about him are both a testament to his methods for making money, and the importance of the mental game (discussed next). This book outlines his trading approach.

I read a book called Reminiscences of a Stock Operator by Edwin Lefevre once every couple of years. It is about Jesse Livermore, although a fictional name is used in the book. Also a worthwhile read!
This is a quick and easy read which follows the path of a new trader as they learn the lessons of the market, including risk management, psychology, and developing/following strategies. Basically, it helps newer or even seasoned traders find their path by knowing what the journey looks like and entails. If you're struggling with trading, this book lets you know you are not alone, and there is a path to profits.
One of the first trading books I read. It is an easy read with lots of great and practical tips on trading. Explains common mistakes traders make, and gives lots of examples of what you should and shouldn't do. Just read it, it's fun and good book.
Market Wizard book series by Jack Schwager.
For information on how various people trade, or if you are unsure what or how you want to trade, check out the Market Wizard book series. It includes interviews with pro traders about how they trade. Lots of ideas to build off of, and shows all the vastly different ways there are to make money in the markets.
More into videos? Check out my Complete Method Stock Swing Trading Course.
A practical approach to trading explosive stocks.
Creating Trading Plans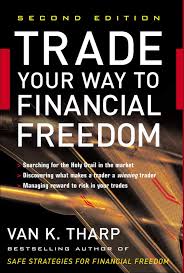 Once you start reading books/watching videos and gaining some trading knowledge, you will have lots of ideas floating around in your head. At some point, you need to condense those ideas (and discard many of them) and formulate your own specific way of trading. This book guides you through the process of doing that.
Read some books, get some ideas, but the quicker you define your own trading plan and start working on only executing that plan, the better off you will be.
The above book is pretty in-depth, if you are new and want something a little easier to digest, check out Super Traders by Van Tharp first.
Best Books for Trading Psychology – The Mental Game
Trading is almost entirely mental, because everything we do, even how we learn and interpret things, is filtered through our own unique brain (that holds a unique blend of beliefs, values, and experiences). A great trading method doesn't matter if we don't have the discipline to follow it. A poor trading system could be turned into a great system by someone with the motivation and focus to improve it.
Working on the mental game is even more important than working on strategies. You may decide to learn strategies first, which is what most people do, but eventually, every trader realizes they need to get their head right too.
If you read this book when you start trading, you may think "This guy is crazy, there is no way trading involves all this emotional and psychological stuff." But trade for any length of time and you will see how much your psychology affects you. Mark provides a roadmap for what you are likely to experience and highlights ways to overcome adversity while trading.
This book will make you think and dig deep, not just about your trading but your life. Some parts might be a little out there for some, and it does get spiritual, but the overall goal is to create the internal resources needed to succeed.
If you feel like digging deeper and exploring additional ways to overcome mental obstacles, this book provides that. I learned about this book in Van Tharp's (book above) Performance 101 Workshop.

This book doesn't talk about trading, but it does talk about how to change our beliefs to change our lives. For example, assume you were brought up in a household where money caused a lot of fights and struggles. You'll hold beliefs about money, possibly some negative, which may cause issues anytime you start making good money. You don't enjoy it, or you sabotage it. This book is about finding and changing beliefs that don't serve us in our life's work.
Scientifically proven to improve your mind in 12 minutes a day. This is a protocol for regaining control of your mind, emotions, and attention so you can experience more out of life and be more present.
That is pretty much a list of what every trader needs. I listened to the author on a podcast where she discussed clinical trials comparing those who did the protocol and those that didn't. The differences weren't subtle. The differences were staggering in some cases, with the people who were willing to dedicate 12 minutes a day seeing drastic improvements in performance.
The ability to focus on a task, whether it is learning to trade, or placing trades, is pivotal to being successful in the markets. Yet it is a skill that is almost entirely eroded in most people due to the constant bouncing back and forth of everyday modern life. The ability to go "deep" into focus, and the ability to learn and execute efficiently, is becoming rare.
Deep Work shows you how to regain your focus and go deep, becoming more efficient at learning and executing tasks. It even has a training program to improve your mind. A must-have toolkit for anyone who wants to improve their focus—a bonified occupational requirement of a trader.
Some Other Books to Improve Thinking
The following books delve into other topics. They aren't really psychology or trading-related, but these resources are important for noticing errors in how we think about certain things.
99 chapters, each only one to three pages long. Each chapter provides an insight into how we can get confused, biased, or make poor judgments/decisions.
Being aware of issues discussed in this book will help with assessing a good trading system from a bad one, and filtering out BS from various sources.
The next two books are my favorite books on statistics. These books provide a basic understanding of statistics, as well as how they can be used to conceal the truth or push an agenda. Things we all need to be aware of because we are inundated with statistics every day.
Don't let the word "statistics" scare you. These books provide anyone with a better understanding of the world we live in, in a simple, entertaining, and easy-to-understand way.
A humorous, simple, yet very clever book (with lots of cartoon pictures) on how statistics work and how they can be manipulated. It is not a textbook, it is not math-heavy, it just provides a way to understand the world better.
Part history and part fascinating anecdotes, this book will make you sit back and go "Wow" as you read it. This book, and the book above, take you on an easy-to-understand journey into a vast and captivating field. This book will make you think of the world in ways you never thought before.
Final Word on Best Books For Swing Trading Stocks
There are lots of great trading books out there. These are just some of my favorites, and they have all shaped my swing trading or how I view the world in some way. Ultimately, each of us is unique, and we need to develop our own method and style of trading that suits our lifestyle, time constraints, and personality.
These books provide a great starting point for doing that. Some provide actual strategies, others provide insights for trading that strategy well, and some books help us filter out the crap that is constantly fed to us.
If you have some other books that really helped your trading, drop a line in the comments.
Interested in day trading stocks? Check out the Price Action Stock Day Trading Course.
It covers how to capture (and find) explosive moves in under an hour a day (trade longer if you wish).
By Cory Mitchell, CMT